China said Wednesday a UN Security Council resolution threatening action against Syria's deadly crackdown on protests would "blindly" pressure the Arab nation without easing the situation there.
The comments came after Russia and China vetoed a Security Council resolution calling for "targeted measures" if Syria's President Bashar al-Assad pursues his clampdown, which the United Nations says has left at least 2,700 dead.
"Some countries submitted a draft resolution to blindly impose pressure and even threatened sanctions against Syria. This would not help to ease the situation," Chinese foreign ministry spokesman Ma Zhaoxu said in a statement.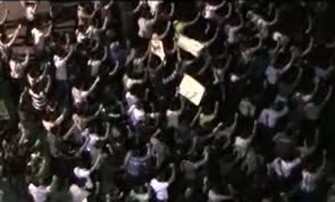 An image grab from footage made available on YouTube shows Syrian anti-regime protesters shouting slogans against President Bashar al-Assad and declaring support to the newly-launched Syrian National Council in the flashpoint city of Homs on October 3, 2011.
The veto prompted outrage from European nations, which proposed the resolution, and the United States, which said the council had "utterly failed to address an urgent moral challenge."
Nine countries voted for the text but Russia and China voted against, killing the resolution because of their veto power as permanent council members.
South Africa, India, Brazil and Lebanon abstained, reaffirming a divide in the 15-member body since NATO launched air strikes in Libya using UN resolutions to justify the action.
America's western allies have joined Washington in imposing sanctions against Syria, but Russia and China have routinely opposed attempts to frame a sanctions regime in the Security Council.
China has drawn criticism for refusing to condemn Assad's regime. In July, it joined Russia in blocking a proposed UN resolution condemning Syria's crackdown.
Once bitter foes, Moscow and Beijing have in recent years ramped up political cooperation, driven by a desire to counterbalance US global dominance.
China, Russia, the United States, Britain and France make up the five veto-wielding permanent members of the UN Security Council.