GENEVA, Oct 14, 2011 (AFP) - More than 3,000 people have been killed in Syria since popular protests broke out in mid-March, the UN human rights chief said Friday, urging international action to prevent civil war in the country.
"The number of people killed since the violence started in March has now exceeded 3,000, including at least 187 children. More than 100 people have been reported killed in the last 10 days alone," said UN High Commissioner for Human Rights Navi Pillay.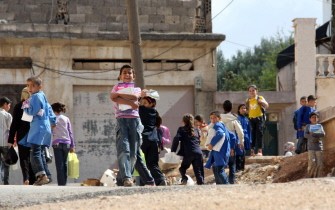 AFP - Syrian students return home from their school in the flashpoint city of Rastan in the central Homs province, about 180 kilometres from Damascus, on October 13, 2011. Rastan, a gateway to the country's north, has been the focus of security force operations against anti-regime dissent for several weeks.
The international community should therefore step up to do so, the UN rights chief urged.
"The onus is on all members of the international community to take protective action in a collective and decisive manner before the continual ruthless repression and killings drive the country into a full-blown civil war," Pillay said.
"The international community must speak with one voice and act to protect the Syrian people," she added.