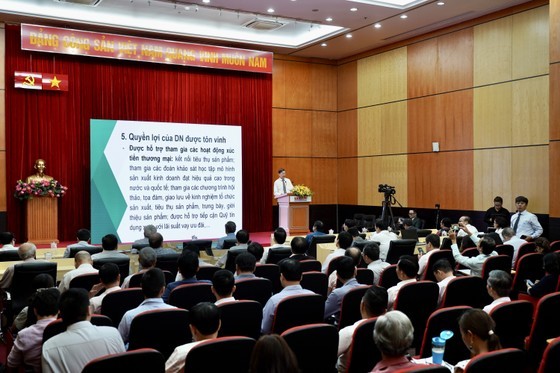 The scene of the announcement ceremony
On the morning of May 31, Sai Gon Giai Phong (SGGP) Newspaper and the Ho Chi Minh City Union of Business Association (HUBA) jointly organized a ceremony to announce the selection and award program for the Green Business title for the year 2023. The event was attended by over 150 business representatives and members of news agencies.
Honoring and supporting businesses
Speaking at the announcement ceremony, Mr. Tang Huu Phong, Editor-in-Chief of SGGP Newspaper, recognized that green growth and the circular economy are emerging as global trends aimed at reducing greenhouse gas emissions and striving for carbon neutrality and sustainable development.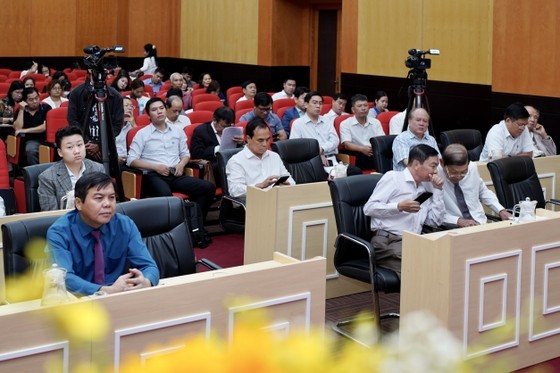 The award ceremony is scheduled to take place in the second week of September.
In another aspect, the trend towards green and sustainable development has given rise to new game rules in trade and investment. Significant import markets are imposing high tariffs on products with significant carbon footprints, and many developed economies worldwide have implemented stricter environmental regulations for imported goods.
According to journalist Tang Huu Phong, green economic development not only helps businesses overcome current challenges but also establishes the basis for sustainable development in the future. However, achieving this objective is not an easy task. Each business faces considerable pressure regarding finance, technology, and market. In order to support businesses in tackling these pressures, SGGP Newspaper and the HUBA are implementing a program to select the "Green Business" title.
The main purpose of this program is to recognize, reward, and encourage businesses that adhere to regulations on waste management in their production and operations and actively engage in research and production of environmentally friendly products. It also aims to strengthen the environmental responsibility of businesses and contribute to the goal of sustainable growth. Additionally, the program supports enterprises in promoting their brand, enhancing their competitiveness, and fostering their integration into the global economy.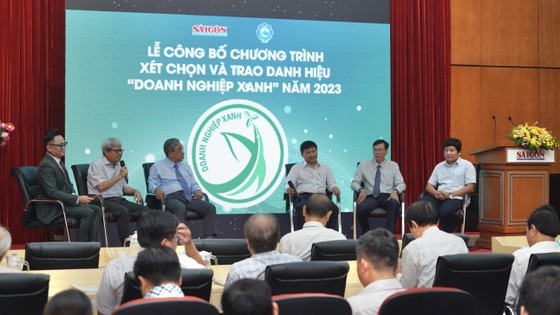 Representatives of the organizing committee and experts at the networking session at the ceremony.
Mr. Nguyen Ngoc Hoa, Chairman of HUBA, has pledged that both organizers will stand by businesses on their journey toward environmental sustainability. He emphasizes that HUBA and SGGP Newspaper will serve as evaluators for the award as well as supportive partners committed to accompanying businesses on their journey to achieve their green objectives. The majority of the business community comprises small and medium-sized enterprises. Although they all have the desire to become environmentally friendly, it is challenging given their limited resources.
In addition to selecting and awarding the Green Business title, the organizing committee will also hold various activities to facilitate networking and promote trade, thereby enhancing the capabilities of businesses and establishing connections with distribution systems and financial institutions. The goal is to seek favorable policies that support businesses in accessing investment loans with preferential interest rates in compliance with legal regulations.
Persisting on the journey to green
Speaking at the announcement ceremony, Mr. Pham Truong, Deputy Editor-in-Chief of SGGP Newspaper, said that sustainable development is an indispensable trend for protecting life. From individuals to production activities, a shift in mindset, lifestyle, and production methods is necessary. The program of selecting and awarding the Green Business title aims to encourage businesses to embrace green transformation and produce environmentally friendly products by adopting technological advancements, promoting responsible consumer behavior, and implementing sustainable practices throughout the production and consumption processes.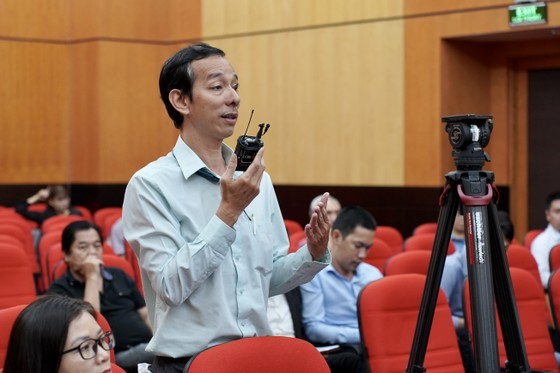 Representatives of businesses give questions during the networking session.
Mr. Nguyen Ngoc Hoa further emphasizes that the organizing committee provides comprehensive support to businesses in various aspects, particularly catering to small and medium-sized enterprises. The evaluation committee, comprising esteemed scientists and experts, not only evaluates the level of "greenness" of businesses but also offers valuable suggestions and solutions to guide them on their green journey.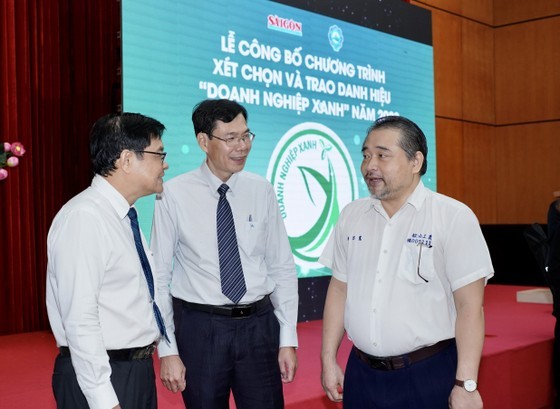 The organizers discuss with delegates at the event.
In terms of capital, the organizers will support businesses by facilitating connections with banks and funding institutions to enable businesses, especially small and medium-sized enterprises, to access green credit programs and overcome capital constraints during their green transformation journey.
Additionally, there will be assistance in connecting and promoting the consumption of green products, ensuring their rightful and strong presence in the domestic distribution system. These products will also receive priority in international market promotion. The "Green Business" logo will serve as a gateway for green products to penetrate deeper and reach further into the international market.
Experts within the Evaluation Committee, including Prof.-Dr. Nguyen Van Phuoc, Chairman of the HCMC Union of Science and Technology Associations, and Assoc. Prof.–D.Sc. Phung Chi Sy, Vice Chairman of the Vietnam Association for Conservation of Nature and Environment, cum Standing Member of HCMC Water and Environment Association, affirm their dedication to supporting businesses in identifying environmentally-friendly solutions that align with the capacity of each company.
Criteria for assessing the Green Business title
In addition to the fundamental criteria of environmental compliance, fulfilling tax and insurance obligations, and achieving financial success, businesses must meet specific criteria to qualify for the Green Business award.
These criteria encompass the level of technological advancement in production (including equipment, machinery, personnel, digital transformation, and organizational management), waste treatment technology proficiency, effective implementation of methods throughout the production process (cleaner production and energy and material efficiency in production), and investment in environmental protection at the company and community levels. Each criterion is evaluated and assigned a specific score, with a maximum total score of 100.