Mr. Dao Hong Duc, director of the center, said that registration staff had made mistakes as they were unqualified to distinguish real with fake machines. The center would consider disciplinary actions against these staff.

According to regulations, the registration agency is responsible for technical examinations of fishing boat machines with the fee of VND60 million (US$2,640) a vessel as per regulations by the Ministry of Finance.
Reporting the assessment results of 17 steel hulled vessels, Mr. Tran Van Phuc, head of the assessment team, said that Dai Nguyen Duong Company used Chinese steel to build five boats, Nam Trieu Company used South Korean steel to build 12 vessels.
Twelve out of the 17 vessels have been naturally rusty, some have been rusty by contact. Five boats see deck, cabin, and equipment heavily rusty and downgraded.
Nines boats are installed with main engines of Mitsubishi MPTA brand name. However inside the engines there are many details unsuitable with operation principles of the genuine machine. This has been confirmed by Mitsubishi Group. The assessment results show that most of the vessels' machines operate unstably.
Three boats installed with Doosan branded machines by Nam Trieu Company have operated unstably. Of these, one was badly damaged. Document examinations show that some machine numbers are different on papers and in practice.
Inspections found that many of 25 auxiliary machines installed in 17 boats do not have labels. They have been damaged and operated unstably. The origin of some high pressure sodium ballasts were found erased. High-pressure sodium lamps are Chinese originated, low quality and not according to contracts.
The assessment team announced that steel quality met requirements to build the vessels. In fact, five boats built by Dai Nguyen Duong Company have visible hull quality problems.
Fishermen and local authorities have disagreed with this conclusion, asking to reexamine and report more clearly and specifically about the steel hull quality.
The Ministry of Agriculture and Rural Development has suspended Nam Trieu and Dai Nguyen Duong Companies, who are not permitted to receive new contracts until they repair the incident. The two must bear responsibility for repair of all damaged parts in the 17 vessels and compensation for fishermen's damage.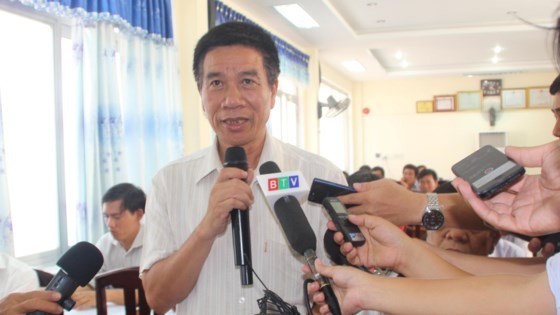 Mr. Bui Huu Hung, deputy director of Nam Trieu Company, replying to press queries about damaged steel hulled vessels at a meeting organized to announce the vessels' assessment results in Binh Dinh on June 22 (Photo: SGGP)