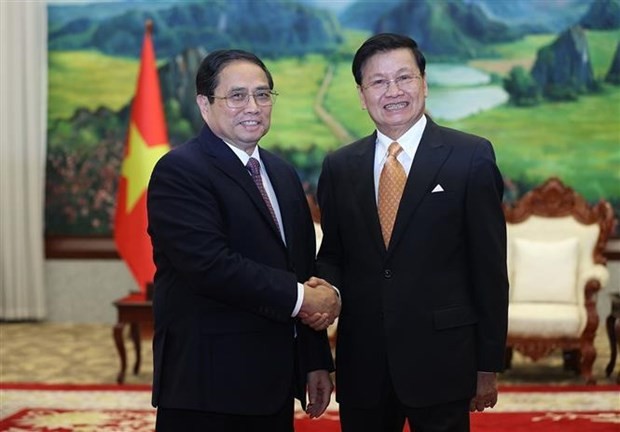 PM Pham Minh Chinh (L) and Party General Secretary and President of Laos Thongloun Sisoulith at their meeting in Vientiane on January 11. (Photo: VNA)
Welcoming the first official visit to Laos by Chinh as the Government leader of Vietnam, the host highly valued the two Governments' efforts to continue developing bilateral cooperation in a substantive and effective manner.
He voiced his belief that important outcomes obtained during the trip will help both sides successfully carry out the Vietnam - Laos cooperation strategy for 2021 - 2030, the agreement on bilateral cooperation for 2021 - 2025, and agreements between the two Governments.
For his part, PM Chinh affirmed Vietnam always treasures and gives the top priority to the great friendship, special solidarity, and comprehensive cooperation with Laos, and considers these as priceless assets holding strategic importance to the countries' revolutions.
He noted the two sides agreed to work together to effectively implement high-level agreements; keep bringing into play the traditional cooperation and mutual trust in terms of politics, defense, and security; and continually improve the quality and effectiveness of cooperation between Party commissions, ministries, sectors, agencies, and organizations of Vietnam and Laos.
They will also push ahead with economic, trade, and investment ties; assist each other to build independent and self-reliant economies that extensively and effectively integrate into the world; and stay steadfast in the path to socialism, according to the Vietnamese leader.
At the meeting, General Secretary and President Thongloun Sisoulith also shared the view that the two sides should actively make use of the results of the Vietnam - Laos Solidarity and Friendship Year 2022 so as to boost communications about the special relations, especially among young people.