Parents can register for five-in-one Pentaxim vaccine for their children on the Internet, starting at 9 AM on December 29, announced Preventive Medicine Center in Hanoi yesterday.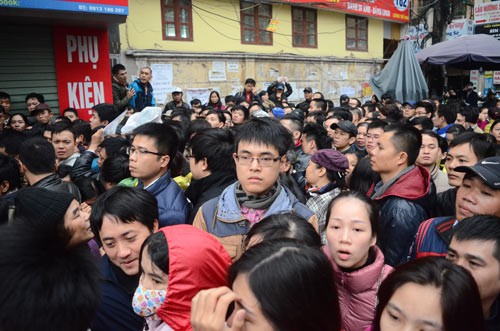 A long queue for vaccination in Hanoi on Christmas Eve (Photo: SGGP)
Those who are successful in registering will be informed the exact date of vaccination. To facilitate parents who have neonates to vaccinate, the center open registration through internet. Parents should access the center: http://www.ytdphanoi.gov.vn and follow guidance steps. Vaccination will be for all children who were born from December 30, 2012 to October 30, 2015.

As scheduled, the center was provided 3,200 dozes of Pentaxim vaccine which is used to prevent five common, potentially fatal childhood diseases: diphtheria (D), tetanus (T), pertussis (P, whooping cough), hepatitis B (HepB), and Haemophilus influenzae type b (Hib).

Appeared at a press conference on December 26, Head of the Drug Administration of Vietnam Dr. Truong Quoc Cuong said he was disappointed over a chaotic situation that occurred at the Polyvac Vaccination Center in Hanoi on Christmas Eve.

Dr. Cuong said that the current severe shortage of vaccine is due to low supply from manufacturers. He informed that Japan, GlaxoSmithKline and Sanofi Pasteur are manufacturers of vaccines with acellular pertussis components.

Japan just produces the vaccine for its domestic demand, not for export.

GlaxoSmithKline detected and withdrew some batches of vaccine were not satisfied quality requirements, he explained.

Moreover, the company prioritized supplying Pentaxim to those nations which use its vaccine in the national expanded immunization programs while the Pentaxim is not used in Vietnam's National Expanded Immunization program, but Quinvaxem, he added.

The Ministry of Health has encouraged parents to use Quinvaxem for their children because it is free of charge vaccine in the National Expanded Immunization Program and Quinvaxem is enough to meet demand.
However, after several death cases of Quinvaxem vaccination were published in the media, many parents are afraid of the Quinvaxem and want their children to be injected with Pentaxim although they have to pay VND 630,000 (US$30) for every injection and queue in long line for the vaccine.