Most National Assembly deputies agreed to enact a law on compulsory deposit insurance at yesterday's group meeting.
This is aimed at improving the legal framework on these activities, overcome shortcomings in the current policy and making the law consistent with international rules.
Deposit insurance is a measure implemented in many countries to protect bank depositors, in full or in part, from losses caused by a bank's inability to pay its debts when due.
It is a component of a financial system safety net that promotes financial stability.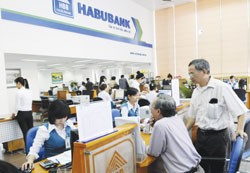 Customers making transactions at Habubank. A law on deposit insurance will be introduced to rectify shortcomings in the current system
NA deputies said that creating a law on deposit insurance would help raise the confidence of depositors and effectively supervise the performance of all institutions presently providing deposit insurance, including commercial banks, people's credit funds, and financial companies. Deputies said that enforcing deposit insurance would help create a fair and healthy playground for the domestic banking system.
Deputy Phan Van Quy from central Nghe An Province said some people did not understand the existing policy on deposit insurance despite its implementation over the last 12 years.
Quy added that in a market-oriented economy, a law on deposit insurance was needed to enhance the efficiency of deposit insurance activities, protect the legal rights and interests of depositors and ensure national financial safety and economic stability to avoid a domino effect.
The majority of NA deputies agreed that the policy on deposit insurance should only insure deposits from individuals, not organisations.
Deputies said the deposit insurance would protect small investors from being exposed to risk.
Deputy Tran Quoc Tuan from southern Tra Vinh Province proposed that the NA consider three groups should be eligible for deposit insurance: individuals, co-operatives and small businesses employing less than 10 people.
Deputies Nguyen Van Phuc and Nguyen Van Son of central Ha Tinh Province asked the NA to specify the responsibility of the deposit insurance organisations in case they went bankrupt.
Deputy Nguyen Van Chien from northern Bac Ninh Province said regulations were not yet clear. They did not mention their specific function or responsibility.
Some said the draft bill should regulate an appropriate fixed premium of the total insured deposits.
The draft bill should also include a specific regulation on criteria to define the amount of premium needed.
In this regard, the NA's Committee on Economics said in the context of volatile economy, the draft bill should not regulate a fixed premium and insurance coverage. It should be set in a flexible manner.
Deputies agreed with the regulations to ensure deposits in Vietnamese dong, not in foreign currencies, so as to make the policy on deposit insurance consistent with the country's policy on foreign currency management.
Under the draft bill, people are encouraged to accumulate foreign currencies that should be sold to the banks. This provision is in line with international practices.
Deputies also discussed the draft bill on water resources. Most of them agreed with the promulgation of the law on water resource so as to address shortcomings and supplement more regulations to meet the demand of State management of water resources.