The National Assembly Standing Committee continued Sept 16 its discussion on two bills including amended Stock Exchange Law and Independent Auditing Law.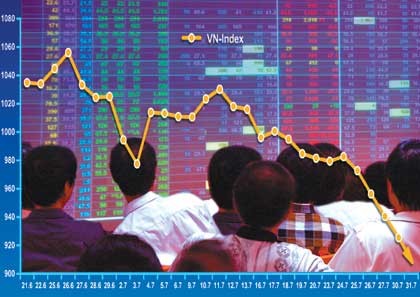 Investors at a securities trading center in Ho Chi Minh City.
Vu Van Ninh, minister of Finance, said many regulations in the current Stock Exchange Law are not tight while the stock market has grown rapidly.
According to NA Economic Committee, the amended law could help resolve many current inadequate issues as it highlights the state management to prevent a corner in the stock, and encourages and boost stock exchanges on the organized market.
The committee agreed to the bill to assign the Government to define new violating behaviors and sanctions against behaviors violating the Stock Exchange Law.
However, the committee said the bill should stipulate that involved organizations and individuals have a responsibility to provide information and documents to the State Securities Committee according to the Government's regulation so the Committee can inspect, monitor and penalize violations.
The bill also has to include conditions for establishment of a securities company and fund management company.
Phung Quoc Hien, chairman of the NA Finance and Budget Committee, said regulations in the bill are not strict as they allow transfers of stocks among subsidiaries of a group, and that presentation and inheritance of stocks don't need to be made publicly.
The majority of committee members agreed that there must be a law on independent auditing.

According to the Government's report, the law would create the highest-level legal framework on independent auditing to facilitate development of auditing services.
Mr. Hien said the law is necessary to raise quality of independent auditing.
He said the number of existing auditing companies is too low. The country has about 1,800 auditors while it has hundreds of thousands of enterprises and economic organizations.
He said the law shouldn't allow independent auditors to provide advice service because they might instruct enterprises how to dodge taxes and the law.