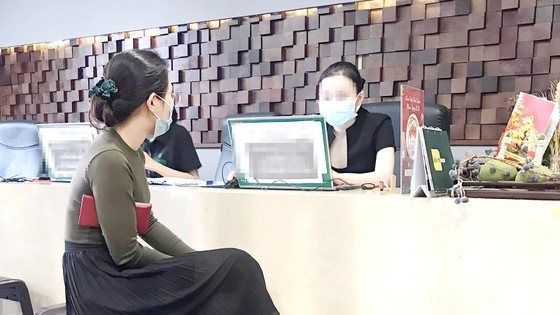 A woman listens to consultation at a beauty salon in HCMC
The HCMC - based Dermatology Hospital yesterday said that on the first day after the Tet holiday ( the 2023 Lunar New Year holiday), the hospital received nearly 3,000 people with skin diseases, and sexually transmitted diseases as well as underwent medical aesthetic surgeries.
According to Dr. Nguyen Thi Phan Thuy, Deputy Director of the Ho Chi Minh City Dermatology Hospital, more people bear skin disease after the Tet holiday as during the holiday, they often stayed up late, ate a lot of sweets and fatty foods, and changes in the weather.
Most people were diagnosed with skin diseases such as atopic dermatitis, acne, and allergic contact dermatitis. Notably, many people come for screening for sexually transmitted diseases such as genital warts, gonorrhea, and syphilis.
In terms of skin aesthetics, many customers received treatment for melasma, freckles, chemical skin regeneration, bad scar treatment, and skin care.