TRIPOLI, Nov 1, 2011 (AFP) - Libya's new prime minister pledged his interim government would set respect for human rights as its priority, as the UN warned against the proliferation of arms looted from Moamer Kadhafi's huge stockpile.
Abdel Rahim al-Keib, an academic and wealthy businessman who is a native of Tripoli, was elected interim prime minister in a public vote carried out by the members of the National Transitional Council (NTC) on Monday night.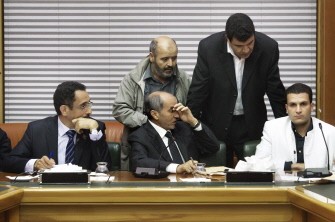 AFP NTC chairman Mustafa Abdel Jalil (C) listens to NTC members during the election that will see Abdel Rahim al-Kib elected as the Prime Minister of the Libyan transitional government October 31, 2011 in Tripoli.
Keib told a news conference shortly after beating four other candidates in the vote that he would set human rights as a priority.
"We guarantee that we are going to build a nation that respects human rights and does not accept the abuse of human rights. But we need time," he said.
Keib spent decades abroad as an opponent of Kadhafi before joining the pro-democracy revolution that overthrew him.
He replaces Mahmud Jibril, who resigned three days after Kadhafi was captured and killed when NTC fighters overran his hometown Sirte on October 20.
"This vote proves that Libyans are able to build their future," NTC chairman Mustafa Abdel Jalil said after Monday's vote.
Under a political roadmap, Keib now has until November 23 to form an interim government that, parallel to the NTC, will run Libya for eight months after which elections for a constituent assembly will be held.
At that point the interim government and NTC will disband, giving way to a "general national congress" that the constituent assembly will form to run the country until parliamentary and presidential elections are held.
The appointment of a new prime minister came as the UN Security Council on Monday called on Libya's interim authorities and neighboring countries to stamp out the spread of weapons from Kadhafi's stockpiles.