Brazil's stock exchange closed Thursday with a sharp drop of 5.72 percent in its main Ibovespa index to 52,811 points, as markets sunk over three percent across Latin America amid global uncertainty.
The slides followed a worldwide trend, with the eurozone debt crisis and weak US data spreading alarm about another sharp downturn ahead.
In Argentina, the main Merval Index plunged a massive 6.01 percent to 3,109.86 points, while Chile's main indicator on the Santiago Stock Exchange closed down 3.94 percent at 4,142.38 points.
The stock exchange in Mexico, Latin America's second-largest economy and a close dependent of the United States, sunk 3.37 percent to 33,322.63 points, in its largest fall this year.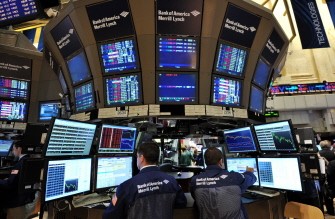 The Bank of America trading post on the floor of the New York Stock Exchange on August 4, 2011.
The Colombian stock exchange fell 3.23 percent to 13,420.71 points, while the main index Peru fell 3.31 percent, to 20,804.68.
The only exception appeared to be Venezuela, where the Caracas stock exchange registered an increase of 0.33 percent, raising the main indicator to 93,008.94 points.
In New York, the Dow Jones Industrial Average plunged 4.3 percent, its worst one-day drop in more than two years.
Earlier, European stock markets suffered a new setback with losses exceeding three percent.