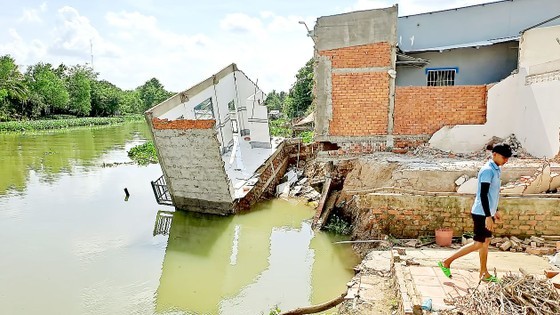 Land erosion worsens in the Mekong Delta
Six consecutive landslides occurred in Hau Giang Province in the last days of May 2023, disrupting many rural transport routes in Chau Thanh and Phung Hiep districts. Since the beginning of the year, Hau Giang Province has recorded 27 landslides with a length of nearly 600m, washing away 3,180 square meters of land.
At the same time, serious riverbank erosion also occurred in Luc Si Thanh Commune of Vinh Long Province's Tra On District paralyzing rural roads; three houses were at high risk of collapsing into the river. In fact, existing old landslides are areas that are generally prone to landslides even though embankments have been built.
The risk of landslides is still considerably high in recent landslides on the banks of the Tien River in Cho Gao District of Tien Giang Province. Previously, on May 23, despite having a solid embankment, this area still had a landslide of the length of more than 30 meters, washing away a part of a chicken farm, and causing a loss of VND5 billion.
Mr. Nguyen Tan Tai, Chairman of Binh Ninh Commune People's Committee, said that illegal sand mining on the Tien River is partly blamed for land subsidence which shattered many local homes. Worse, meanwhile, the commune administration does not have boats to chase away and arrest sand thieves.
Deputy Director of Ca Mau Department of Agriculture and Rural Development To Quoc Nam informed that more than 56km of coastal protection embankments costing VND1,848 billion had been built in the province. The embankment projects have brought into play their effectiveness, reducing waves, preventing landslides and initially facilitating soil accretion, creating yards and restoring nearly 1,000 hectares of protective forests. However, Ca Mau still has about 100km of coastline and 265km of riverbanks that have been eroded.
In Ca Mau, Dam Doi District became the province's hotspot for landslides as there have been 39 landslides along the riverside, completely damaging 76m of concrete embankments, 10 houses, and more than 860m of rural roads.
Similarly, there have been recently many landslides in An Giang Province. Specifically, a partial landslide with a total length of about 70m is being seen in An Thai hamlet in Hoa Binh Commune of Cho Moi District on the left bank of Hau River, which ravaged 10m inland. Inhabitants in Long Giang Commune were evacuated from a landslide-stricken Ong Chuong canal.
Scientists have pointed out that the main cause of landslides in the Mekong Delta is the lack of silt and sand in the riverbed which are impacts of hydroelectric dams and the impact of sand mining along the Mekong River. Mr. Nguyen Huu Thien, an independent research expert on the ecology of the Mekong Delta, warned more and more landslides will take place at the end of the dry season.
According to the general development, the Mekong Delta will have to face landslides for the next decades due to the operation of hydropower dams on the Mekong Delta; plus, sand thieves will not stop their illicit activities and landslides will continue to be seen in the region.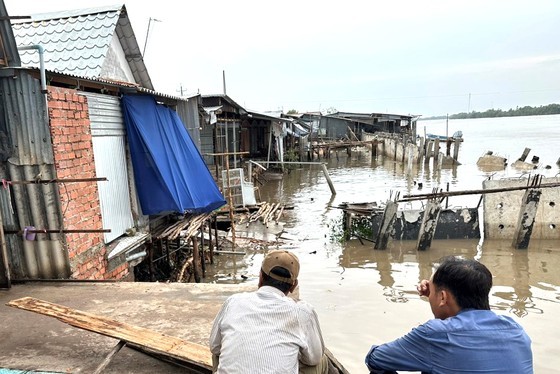 Houses damaged due to landslide in the Mekong Delta (Photo: SGGP)
The Vietnamese government has spent tens of thousands of billions of Vietnamese dong to support the Mekong Delta provinces to build embankments and breakwaters, to prevent landslides in the past five years.
According to Mr. Nguyen Phuong Binh, Vice Chairman of the People's Committee in Ca Mau Province's Dam Doi District, the district administration has been encouraging local people to plant mangrove trees along rivers and canals to limit landslides over the past time.
Meanwhile, the People's Committee of Tien Giang Province said that from 2020 to 2021, the Province has constructed embankments and breakwaters with a length of more than 3,230m to prevent erosion of the Go Cong sea dyke in the section of Tan Thanh Commune. After being used, 0.5-0.7m sedimentation occurred in the embankment area; simultaneously, the revival of forest trees is promising to create a protective forest belt to protect sea dykes and people in coastal areas.
Vietnam Disaster Management Authority said that the Mekong Delta currently has over 780 landslide areas with a total length of nearly 1,000km. Preliminary statistics in five provinces including An Giang, Dong Thap, Can Tho, Vinh Long, Ca Mau show that there are over 20,000 households living in landslide-prone areas that need to be relocated.