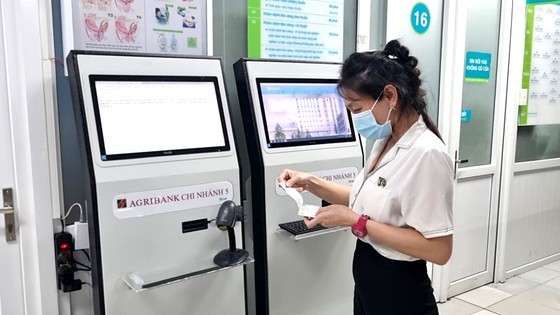 Patients are given smart cards in Binh Dan Hospital
Every day, HCMC-based Binh Dan Hospital receives more than 2,000 outpatients and nearly 900 inpatients. Previously, the hospital's medical staff had to write five forms on paper after taking care of the patient, now they type on an electronic form, helping to shorten the recording time. Patients' information such as pulse, temperature, and blood pressure is input into the hospital's computer system.
With just a tablet, nurses can quickly access all patient records, and treatment orders from doctors without having to carry paper records when taking care of patients in the hospital bed as before.
According to the Board of Directors of Binh Dan Hospital, the hospital has prioritized digital transformation right from the beginning of 2022 for complete electronic medical records. All source code is implemented and completed by the hospital's IT engineering team according to actual requirements in examination and treatment activities.
Up to now, almost the modules in the medical records have been completed and operated smoothly, meeting the requirements according to the regulations on electronic medical records. In addition, the hospital applies artificial intelligence to guide people about information such as examination schedules, costs, and notes.
Similarly, smart cards have been used in HCMC-based Thong Nhat Hospital to serve patients since 2020, bringing great effectiveness in examination and treatment services. When people come to the hospital for an examination, they are given smart medical cards to register for online medical examination and treatment. Patients can select doctors and rooms as required and pay for the fees of medical services right at the kiosks in the hospital aisles.
Doctor Nguyen The Han, Head of Thong Nhat Hospital's On-Demand Examination Department, said that since smart cards have been put into use, the waiting time to see doctors reduced much meanwhile, the use of smart cards also helped reduce the work stress of medical workers. The integration of the health insurance card into citizens' identity cards with a chip also helps people not need to carry a health insurance card when going for medical examination and treatment.
Assoc. Prof. Tang Chi Thuong, Director of the Department of Health of Ho Chi Minh City, said that before, if medical facilities changed information related to operation licenses or changed practicing personnel, they would have to send the submission to the health department for review, but they now only need to update the changed information by online form. Information will be processed within 5 working days and will be published on the sector's portal at https://thongtin.medinet.org.vn.
This aims to create favorable conditions for medical establishments to carry out practice registration procedures legally and transparently. This also helps the Social Insurance Agency easily review and determine the lawful practice process at healthcare establishments in settling health insurance.
In addition, the Department of Health of Ho Chi Minh City also carried out a digital transformation in the appraisal and approval of technical lists, which shortened many stages to save travel time and papers.
Up to now, nearly 50,000 techniques of all public and non-public hospitals under the management of the Ho Chi Minh City Department of Health have been digitized and people can easily look them up on the sector's website.
According to Assoc. Prof. Tang Chi Thuong, the city's health sector is currently making recommendations to promote digital transformation activities towards building a smart hospital.
Dr. Thuong said that digital transformation is considered one of the key activities in hospitals' annual operation plan, which is directly directed by infirmary managers. At the same time, management boards of hospitals must raise employees' awareness of the importance of digital transformation. Recruiting additional human resources for the IT department is now a high priority, said Assoc. Prof. Tang Chi Thuong.