BAGHDAD (AFP) – Iraqi security forces were under the spotlight Monday after a coordinated suicide attack on an army complex killed 12 people, with US troops among those who fired back in a bid to repel the operation.
American involvement in the response to Sunday's attack was the first reported such engagement for US forces in Baghdad since they declared an official end to combat operations in Iraq five days ago.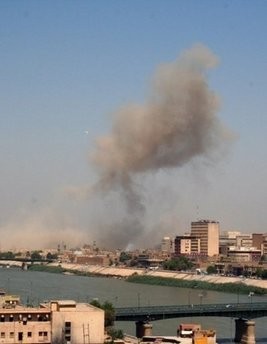 A plume of smoke is seen following a large explosion that rocked an Iraqi army complex at the Rusafa Military Command headquarters in eastern Baghdad. AFP
The morning attack targeted Rusafa military command headquarters, which only three weeks ago was hit by a massive suicide bombing that killed dozens of young men preparing to sign up.
Accounts varied between witnesses and US and Iraqi security forces, but the capital's security command said five suicide bombers had approached the compound in a minibus.
One was fired upon as he got out of the vehicle and his suicide vest detonated, Baghdad operations command said in a statement.
Two others fled to a nearby building, while the remaining two drove the vehicle towards soldiers, setting off their payload before they could be stopped.
Lieutenant Colonel Eric Bloom said a team of US military advisers is stationed at the complex, and when the attack came its security team provided "suppressive fire" against a building where the two insurgents were hiding.
"The team was there, and there was a small security element with them, and they did provide suppressive fire," Bloom told AFP.
"They provided suppressive fire while the Iraqi army got into position to go in (to the building). There was some return fire -- the insurgents were firing down into the compound.
"It went on for mere minutes, it was over very quickly."
He added that the insurgents detonated their suicide vests before Iraqi soldiers could capture them.
Under the terms of a bilateral security pact, American soldiers are allowed to return fire in self-defence, and take part in operations if requested by their Iraqi counterparts.
Baghdad operations command, which is also based at the complex that was attacked, put the toll at 12 dead and 36 wounded. It was unclear how many of the victims were soldiers.
Bloom could not say how many US soldiers were involved in the incident, but said none was wounded. He added that the US military had provided bomb disposal support as well as surveillance with drones and Apache helicopters.
"I was waiting with three of my colleagues near an armoured car (when the attack occurred)," a policeman told AFP on condition of anonymity from Baghdad's Medical City hospital, slumped against the wall of the emergency room with bandages covering gunshot wounds to both of his legs.
"I was shot in two places, and I tried to hide behind the car. When I looked for my colleagues again, they were not there -- all I saw was blood and the vests that they had set aside."
The policeman, visibly shaken, added that the vehicle that exploded was a red car that passed through a preliminary search before exploding at a second checkpoint.
The largest blast sent plumes of smoke into the skies over the capital, with nervous soldiers frisking any civilians who crossed Bab al-Muatham bridge, which connects the west side of Baghdad to Rusafa in the east.
The explosion caused extensive damage to nearby buildings and Dr Adil Saloom, director of the hospital's emergency department, said 20 patients had been treated.
The Rusafa headquarters, responsible for security on the eastern side of Baghdad, was being used as an army recruitment centre on August 17 when a suicide bomber detonated his payload, killing 59 people.
Sunday's explosion was the biggest to hit Baghdad since the recruitment centre attack, and it came four days after US forces officially transformed their role in Iraq from a combat mission to "advise and assist" operations, with fewer than 50,000 US troops now stationed here.
Vice President Joe Biden launched the new mission on Wednesday, saying that violence in Iraq was now at its lowest level since the war, but that same day official statistics said 426 people died in unrest last month, underscoring insurgents' continuing ability to kill.
The apparent spike in violence -- July was Iraq's deadliest month in more than two years -- comes amid a political impasse in which no new government has been formed since a general election in March.