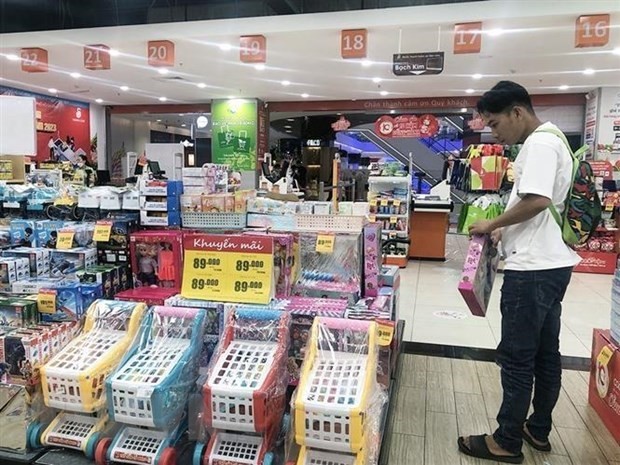 A man chooses toys for toddlers at a supermarket in Ho Chi Minh City. (Photo:VNA)
Six of the 11 main consumer goods and services groups witnessed price increases, three others saw price decreases and two remained unchanged.
During the month, prices of housing, fuel, and construction materials increased by 0.59 percent, equipment, and household appliances by 0.01 percent, and other services and goods rose by 0.43 percent.
Meanwhile, a decline was seen in the transportation sector (2.95 percent) and post and telecommunications (0.29 percent).
According to the office, the city's CPI increased by 4.01 percent in the first five months of this year, except for the post and telecommunications group which decreased by 0.26 percent, and the transportation by 3.23 percent.
Groups with high growth include restaurants and food service increased by 4.51 percent; beverages and tobacco (4.62 percent); housing and construction materials (5.13 percent); culture and entertainment (5.29 percent) and education (15.29 percent).
Gold price in May increased 0.1 percent while the US dollar price fell by 0.06 compared to April.