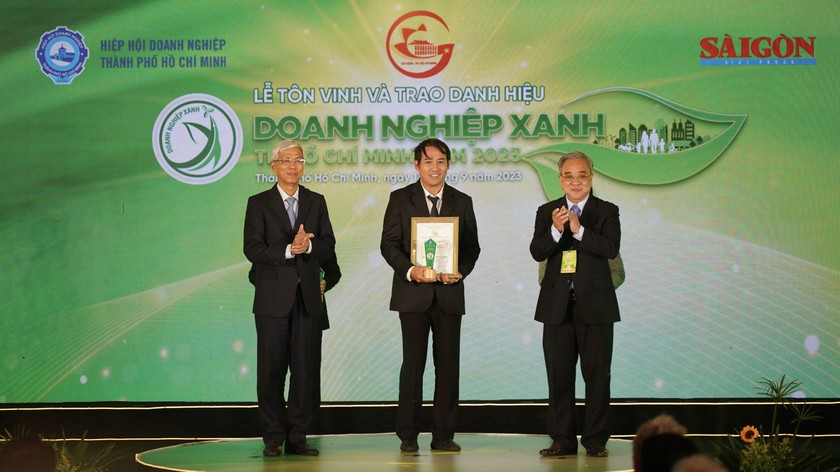 Vice Chairman of the HCMC People's Committee Vo Van Hoan and HUBA President Nguyen Ngoc Hoa are delivering the title 'HCMC Green Business 2023' to the winners (Photo: SGGP)

This event is one of the activities in the 4th HCMC Economy Forum 2023, themed 'Green Growth – Journey to Zero Net Emissions', happening from September 13-17. By upgrading into an award chaired by the HCMC People's Committee, 'HCMC Green Business' title allows winning companies to develop more stably in the country as well as in the world.
The selected enterprises all felt proud and excited at the ceremony. General Director Nguyen Dang Hien of Tan Quang Minh Co. Ltd. (sited in Vinh Loc A Industrial Park in Binh Chanh District) shared that his company has invested in green manufacturing since 2000. Six years later, it won the first 'HCMC Green Business' title, held by Sai Gon Giai Phong (SGGP) Newspaper. This became a milestone as its trading activities have bloomed ever since when it could enter such picky markets as the US and Europe.
Sharing the same honor of winning the 'HCMC Green Business' title is Secoin JSC. (sited in Binh Tan District). Its General Director Vo Thi Lien Huong said that to earn that title, her organization has to take care of various aspects like protecting the environment, controlling exhaust fumes amount during operation, applying advanced technologies in manufacturing, carrying out the digital transformation process, using energy effectively, helping the community to raise the awareness about environment protection.
Green growth has become an inevitable trend and a vital condition for a sustainable future of a business. Deputy Editor-in-Chief Pham Van Truong of SGGP Newspaper shared that the organization board seriously collected opinions from relevant agencies and expert councils of several fields before building a standard set for the 'HCMC Green Business' title. Based on that set, a judge board consisting of scientists, experts, and representatives of competent authorities carefully reviewed and picked 90 most suitable companies for the title this year.
In the ceremony, HUBA President Nguyen Ngoc Hoa confirmed that all enterprises winning the title 'HCMC Green Business 2023' have made great efforts in implementing eco-friendly methods during their operation and production. They have strictly observed environmental regulations. They have joined hand with HCMC to create a greener working and living environment, contributing to the fight against global warming and climate change. Therefore, receiving the title is an honorable encouragement to their efforts as well as a passport for them to capture the heart of their customers and partners so that they can expand their market globally.
President Hoa also informed that along with awarding this title to selected businesses, HUBA and SGGP Newspaper are going to synchronously launch three solutions to help enterprises quickly resume their work after the pandemic and keep up with the green growth trend:
_Supporting businesses to learn about green technical barriers in order to build a suitable plan for manufacturing technology upgrade;
_Organizing promotion activities and green trade connections for businesses to expand their market;
_Developing and implementing a strategy to create a green brand name for businesses winning the title.
Prof. Dr. Nguyen Van Phuoc, Chairman of the Vietnam Union of Science and Technology Associations (VUSTA) and member of the judge board, insisted that the board is going to include more updated green standards into the set year by year to guide businesses into following the global green growth trend and becoming more confident when entering international markets without being stopped by any green barriers.
The 'HCMC Green Business' title selection, assigned by the HCMC People's Committee to HUBA, SGGP Newspaper and relevant state agencies to carry out, is one of many solutions adopted by HCMC to cope with climate change, reduce carbon emissions in manufacturing and trading activities, and help consumers become greener.
Launching annually, the 'HCMC Green Business' title aims at fulfilling the national goal of zero net emissions. Therefore, it is necessary to build practical selection standards, to apply serious and transparent selection methods, and to have a capable judge board that works scientifically. Only then can the title increase the prestige of winning enterprises in the city.
Meanwhile, the business community should promote a sense of responsibility and cooperate with the city in protecting the environment, create a healthy business place, and a livable city with sustainable development.
In the framework of the 4th HCMC Economy Forum 2023 (HEF 2023) and the award ceremony for 'HCMC Green Business 2023', the city held Green Growth Show 2023 (GRECO 2023) on Nguyen Hue pedestrian Street in District 1. The event takes place from September 13-17.
Taking part in GRECO 2023 are 100 leading domestic and foreign businesses. There is a reserved area for 'HCMC Green Business 2023' winners to display their products. There is also space for innovative enterprises as well as a section to inform the public about the city's green growth strategy.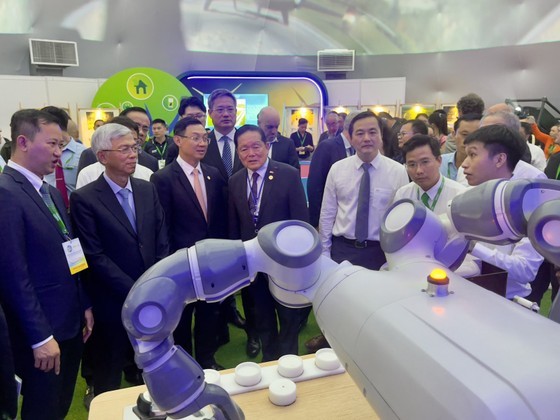 Delegates visit a stall at the Green Growth Show 2023 (GRECO 2023) on Nguyen Hue pedestrian Street in District 1 on September 14 (Photo: SGGP)
Among 90 selected companies for the title 'HCMC Green Business 2023', 52 are manufacturers and 38 are working in the trade – service – real estate sector. In general, there are 23 sections to consider, each is graded from 2-10 points.
Besides satisfying common criteria like observing regulations on environment protection and fulfilling tax responsibilities, they have to meet specific requirements of their fields (manufacturing technologies, waste treatment and recycling technologies, greenhouse gas emission reduction, energy conservation, logical use of materials, suitable investment for environment protection tasks, sustainable consumption, digital transformation in administration, etc.).