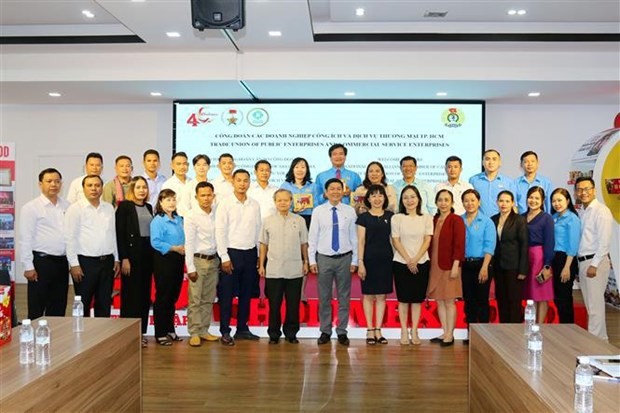 Delegates at the meeting (Photo: VNA)
The sides briefed each other on their operations and exchanged experience in the implementation of trade union movements at the local level.
They shared many ideas to optimise the role of trade unions and give better care for labourers, building harmonious labour relations and promoting the development of businesses and agencies.
The National Union Alliance Chamber of Cambodia (NACC) Vice President Kim Chann Samnang briefed his hosts on the employment situation, trade unions' activities and policies for laborers.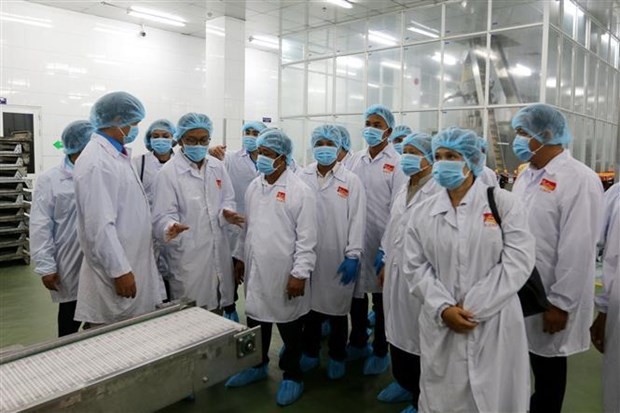 Cambodian NACC delegates visit Cholimex Food Joint Stock Company in Vinh Loc industrial park in HCMC (Photo: VNA)
He said that Cambodia currently has 1.5 million laborers, 80 percent of whom have joined trade unions. Their average income reaches US$250 - 350 per month, he added.
The official expressed his hope that the Trade Union of Public Utility Enterprises and Commercial Services of HCMC and the NACC will continue to share experience in trade union affairs and measures to attract more laborers, thus contributing to strengthening the friendship and cooperation between the two sides and promoting the socio-economic growth in each country.
During their stay in the city, the NACC delegation also learned from the city trade union's experience in women's affairs, financial and asset management, protection of laborers' rights and interests, and communications work.
They will tour a number of trade unions in a number of facilities in the city, and visit historical and cultural relic sites in the city and neighboring provinces until June 10.