An analysis of the situation and solutions to stabilize and develop the Vietnam Shipping Industry Group (Vinashin) was one of the main topics discussed at the Government's regular July meeting, which took place August 3 and 4.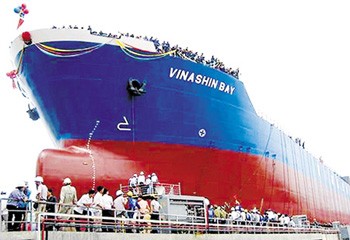 A new vessel built by Vinashin is displayed in a launching ceremony
In an announcement issued yesterday, the Government affirmed that the establishment and development of Vinashin aimed to boost the shipping industry in order to meet the demands of the national economy, defense and security. It is a judicious and necessary policy, commensurate with relevant Party resolutions.
Vinashin can list several accomplishments, including the construction of technical facilities for the shipbuilding industry. Specifically, the company has 28 shipbuilding factories, which produce high quality vessels with advanced technologies.
The initial equity of just over VND100 billion (US$5 million), has risen to VND8 trillion ($400 million), allowing the company to build cargo vessels up to 53,000 tons, crude oil vessels up to 105,000 tons and ships able to transport 6,900 cars each.
However, many weaknesses of the Vinashin group have been exposed in recent years, especially in 2008 during the global financial crisis, when customers annulled several shipbuilding contracts worth US$8 billion.
In 2010 alone, the total value of contracts in danger of termination is expected to top US$700 million. Additionally, the group's weak forecasting ability has also badly affected implementing production, trading and investment plans.
The group has also suffered financial burdens caused by too many investment projects carried out unnecessarily. Thus, a host of projects received allocations that were less than 50 percent of their total investment capital.
Vinashin's funds for many projects have been too low and some projects were funded exclusively by loans. As a result, most of investment projects are half-done, typically like projects on site clearance at industrial zones and on building vessels for exports.
Moreover, the group has also bought old vessels that were produced abroad, which operate ineffectively, developed many companies in a short amount of time and widely invested in fields outside its area of expertise. A slew of the group's companies face losses and are unable to pay debts.
To solve difficulties, Vinashin `has been forced to borrow in order to pay old debts or even use liquid capital for investment.
Vinashin has been dumped in debts since 2009. By June 2010, total assets of the group is about VND104 trillion (US$5 billion) but debts top VND86 trillion (US$4 billion).
Reporting profits despite losses
The Government said that weaknesses and serious mistakes made by Vinashin leaders account for the group's scandalous operations, aside from the objective reality that the world shipbuilding and marine transport industries have tumbled.
Vinashin's loosed management and weak forecasts have resulted in many unreasonable and even illegal decisions. Specifically, Vinashin falsely reported about their use of capital, investment, the establishment of more companies and production and trading results. The group reported it earned profits in 2009 and for the first quarter of 2010, though in fact it lost money during these periods.
The group head is responsible for these mistakes, which have hidden the actual conditions within the company from State management organs; as a result, they could not issue timely instructions, the Government concluded.
The Government also admitted that State companies and economic groups including Vinashin have been managed inefficiently and ineffectively. Accordingly, authorized ministries have failed to uncover and prevent wrong decisions on investment, capital misuse and business scope enlargement in a timely fashion.
Vinashin reconstruction
After a host of meetings since 2008 to resolve problems at Vinashin, the Government recently said that a decision to reconstruct the group has been approved, aiming to help Vinashin pay debts, recover capital sources and maintain its key role in the country's shipbuilding industry.
In addition, the Government also pledged to improve mechanisms and regulations to reinforce effectiveness of the State management of companies and economic groups. Individuals responsible for mistakes at Vinashin will be handled strictly.
A steering committee has been established to oversee Vinashin's reconstruction.
At present, chairman of Vinashin has begun creating new production and trading projects. It is expected that the group will continue suffering losses through the 2010-2012 period and will not begin seeing profits until 2013. Stable operation and development will hopefully shine by 2015.