US Treasury Secretary Timothy Geithner has said he is not satisfied with China's moves to loosen its grip on the yuan, ahead of an appearance before US lawmakers on ways to pressure Beijing.
Geithner, who will testify before the US House Ways and Means Committee on Thursday, told the Wall Street Journal in an interview that Beijing had done "very little" since pledging in June to let the yuan trade more freely.
When asked in the interview, conducted on Friday and posted on the newspaper's website on Monday, whether he was satisfied with China's progress on the issue, Geithner replied: "Of course not."
"China took the very important step in June of signalling that they?re going to let the exchange rate start to reflect market forces. But they?ve done very, very little, they?ve let it move very, very little in the interim," he said.
"It?s very important to us, and I think it?s important to China, I think they recognise this, that you need to let it move up over a sustained period of time."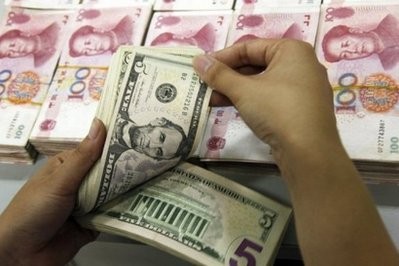 A Chinese bank worker counts US dollars alongside 100-yuan notes in central China's Anhui province
China made the June pledge following intense pressure from the United States, Europe and other trading partners for a stronger currency. The currency had until then been effectively pegged at about 6.8 to the dollar since 2008.
Since then the yuan has appreciated about one percent against the greenback, angering US lawmakers who have been calling for steps against what they see as unfair Chinese trade practices.
The People's Bank of China on Monday set the central parity rate -- the middle of the currency's allowed trading band -- at 6.7509 to the dollar, according to chinamoney.com.cn.
The exchange rate can move up or down 0.5 percent on any given trading day.
Some economists think the yuan is undervalued by 25-40 percent, giving Chinese exporters an unfair price advantage -- but Beijing has called the allegations "groundless".
US lawmakers have been pressing for legislation that would require the Commerce Department to apply punitive sanctions against China and other countries with allegedly undervalued currencies.
"China's currency remains substantially undervalued. It is vital that we hear Secretary Geithner's views about US policy and how best to proceed," Ways and Means Committee chairman Sander Levin said in a statement on the hearings.
The committee will hold an initial hearing on Wednesday before Geithner's appearance on Thursday.
"The large and persistent US trade imbalance with China is a major contributor to global imbalances, costing the United States jobs and economic growth," Levin said.
The US trade deficit with China fell slightly to 25.92 billion dollars in July from 26.15 billion dollars in June, the US Department of Commerce said last week.
China said Friday its trade surplus unexpectedly shrank in August to 20.03 billion dollars as imports accelerated -- which analysts said would bolster Beijing's arguments for a limited appreciation of the yuan against the dollar.