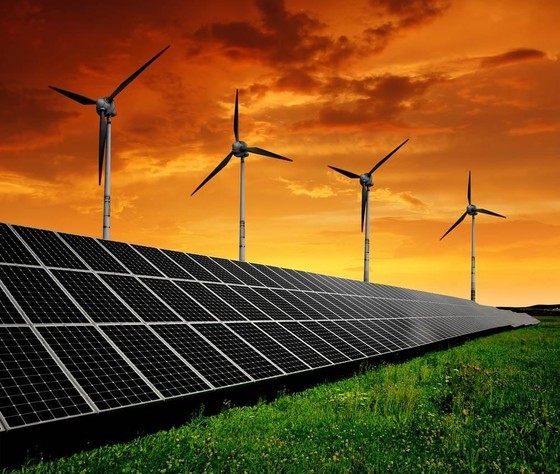 Currently, there are 28 wind power projects that have been completed but have no electricity price yet
Previously, on January 7, the Ministry of Industry and Trade issued Decision No. 21/QD-BCT promulgating the price bracket for electricity generation of transitional solar and wind power plants.
According to this price framework, the ceiling price for a transitional solar power project is VND1,185-1,508 per kWh and wind power VND1,587-1,816 per kWh, depending on the type.
The Ministry of Industry and Trade on January 9 requested EVN and investors of transitional solar power plants and wind power plants to expeditiously negotiate and agree on electricity generation prices which are not allowed to exceed the price bracket issued by the Ministry of Industry and Trade.
Immediately after that, EVN sent a document to 85 investors of renewable power projects, requesting early submission of documents according to regulations and instructions to prepare for the negotiation of power purchase and sale contracts and transitional electricity prices.
If eligible, they will negotiate toward fairness and transparency.
However, at a conference to discuss with investors of renewable power projects organized by EVN on March 20 in order to discuss and remove difficulties in negotiating electricity prices and power purchase and sale contracts for renewable energy projects (wind power, solar power) , a representative of the Electricity Trading Company of EVN revealed that only one factory has submitted an application.
At the conference, an EVN representative affirmed that the company is expecting early negotiation of electricity prices to put power projects into operation soon, avoiding waste. EVN announced that application submission will be solved on first come, first serve basis.
However, at this conference,a representative of T&T Group and many investors voiced their opinion that the price bracket for transitional renewable electricity offered by the Ministry of Industry and Trade is low.
Ms. Nguyen Thi Thanh Binh, Deputy General Director of T&T Group suggested, to remove difficulties for 34 projects with a total capacity of more than 2,000 MW under construction which have completed the construction investment, power generation, allowing acceptance and recording output while the transitional electricity price has not been negotiated.
Accordingly, Ms. Binh proposed that EVN should buy electricity at a temporary price. The proposed price is equal to 90 percent of the imported electricity price. The price of imported electricity that Vietnam is applying currently is 6.95 cents per kWh, so the price is temporarily calculated at about 6.2 cents per kWh.
Currently, there are 84 renewable energy projects with a capacity of more than 4,676MW that are behind the schedule of commercial operation compared to the plan. Amongst them, 34 transition energy projects including 28 wind power projects, and 6 solar power projects with a total capacity of nearly 2,091MW have been completed and tested. These projects have not been entitled to a fixed preferential electricity price (FIT price) for 20 years according to previous decisions, so they have switched to applying the transitional electricity price mechanism.
Energy transition refers to the global energy sector's shift from fossil-based systems of energy production and consumption — including oil, natural gas and coal — to renewable energy sources like wind and solar, as well as lithium-ion batteries.