The European Commission hopes to sign a joint declaration of cooperation in tourism with the Chinese authorities by year's end, Commissioner for Industry and Entrepreneurship Antonio Tajani announced.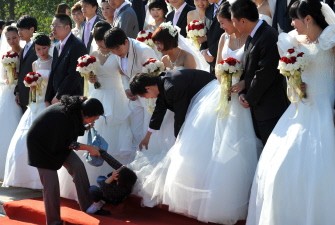 In this picture taken on October 6, 2011 twenty one Chinese couples take part in a group wedding ceremony held at Haidian Park Center in Beijing
"This declaration should mark the start of a profitable cooperation that will bring in profits to the European tourist industry and contribute to improving contacts between our peoples," Tajani told an informal meeting of European tourism ministers at Krakow, in Poland, on Thursday.
Tajani, a vice-president of the commission, went on: "The emerging markets present a potential for attracting and building up tourists to Europe."
He and Commissioner for Internal Affairs Cecilia Malmstroem had decided to set up a working group on visas in a bid to ease visa applications for would-be visitors to Europe, he added.