Thanks to her videos, many disadvantaged people have gained financial support for decent accommodation and road construction.
Journey of building charity houses
The journey of Chao Mui Coi, a 23-year-old girl from the Red Dao minor ethnic group, and her husband to build charity houses is not a bed of roses. In the case of Mr. Tan Lao Ta in Ngai Tro 2 village (A Mu Sung Commune, Bat Xat District), for instance, Mr. Ta's house was located 35 kilometers from Coi's. Yet every day, Coi and her husband rode motorbikes to Ta's house to visit his family and learn about their lifestyles to build a new house for them.
At that time, Ta's house, built with bamboo and wooden poles, tarpaulin as a roof, was more like a tent, with inadequate furniture.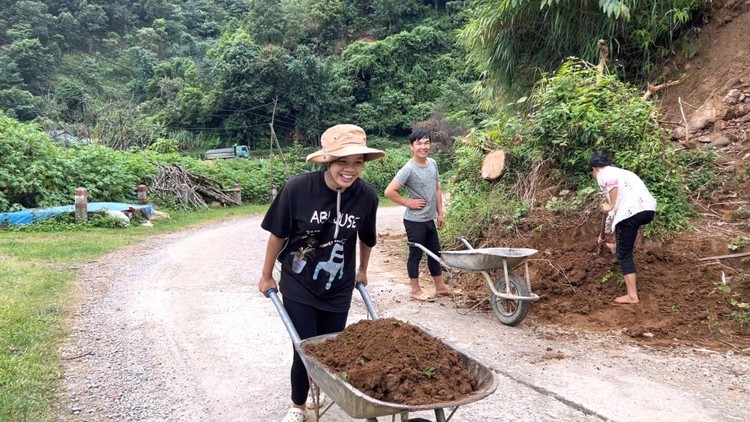 Chao Mui Coi helps disadvantaged people in her hometown. Photo: SGGP
Mr. Ta has schizophrenia and is mentally unstable, while his wife is mute. Even their first daughter could not speak, while their second daughter was only a few months old back then and had to constantly be carried by her mother, even while she was working.
Therefore, apart from calling for financial support to help Mr. Ta's family with daily living expenses and essential items, Coi started thinking about building a new house for them.
Given the mobilization of the A Mu Sung Commune authorities, together with the dedicated support of Vice Chairman of the Commune People's Committee Ma Seo Cui, in the end Coi managed to convince Ta's adoptive father to reserve a small piece of land for Mr. Ta.
This land, which was previously only used to grow corn and raise ducks, was then cleaned and leveled with soil, covering an area of ​​about 30 square meters.
With the funds of more than US$2,000 (VND50 million) from benefactors, a house was completed thanks to the help of Coi, her husband and the villagers.
Highland YouTubers bring local stories to public
There have been many YouTubers from the Northern highlands, with channels ranging from Sapa TV, Nhip Song Tay Bac (Northwest Lifestyle), Ve Mien Tay Bac (Head for the Northwest), Hoa Ban Tay Bac (Northwest Orchid), Gai Ban (Village Girls), Trai Ban (Village Boys), to Giang A Phao. These YouTubers undeniably have contributed greatly to promoting tourism, preserving indigenous cultural features through many unique and highly attractive videos, or even helping the poor.
Obviously, Coi is not the only YouTuber known for her humanitarian activities, but for a young girl like her, this requires more effort to turn the impossible into reality. In fact, Coi distinguishes herself as a YouTuber with an unprecedented approach to the poor.
Born and raised in Trung village (Trinh Tuong Commune, Bat Xat District, Lao Cai), Coi watched many documentaries about her hometown from a young age. Since then, the girl has dreamed of being able to make such films in the future, so that people could know more about the people and life of the Northwest highlands.
By introducing Lao Cai to many people through videos, she also hopes to mobilize and call on help for individuals and families in hardships.
Growing up in an impoverished family, she intimately comprehends the difficulties facing the locals. Therefore, in her videos on the Coi Lalin channel, it is not hard to catch sight of Coi wearing slippers, enthusiastically offering help with physically demanding tasks to build charity houses.
However, her YouTube channel, Coi Lalin, has just reached more than 97,000 subscribers (one needs 100,000 subscribers to reach the Silver Button), while her TikTok channel of the same name recently reached more than 63,000 registrations and 1.4 million likes. With such modest statistics, pursuing a career of content creation could hardly bring her a stable income.
To make ends meet, currently, Coi runs a business selling highland products such as honey, bamboo shoots, and medicinal herbs. Every day, still, she and her husband roam the streets of Lao Cai to look for the families in need, with a view to "Sharing hearts - Connecting love", as the message she always quotes at the beginning of each of her videos.
Mr. Tan Lao Ta's case is just one of more than 20 houses and 2 residential roads that Coi has mobilized philanthropists to support and build for the disadvantaged households in Lao Cai.
Some other cases include Mr. Sang, a single father raising 4 children in Ta Gia Khau, Muong Khuong District; or Phu, who is blind and has to take care of his elderly mother and a sister with mental problems.
Coi's hope is that she can draw more attention to her hometown, Bat Xat, Lao Cai, so that she can bring to light the hardships of the locals, thereby helping them to rise above poverty.