Staff at health facilities continue to face a fairly high risk of infections from body fluids, blood or pathogens as protective measures are not effective, local health officials have said.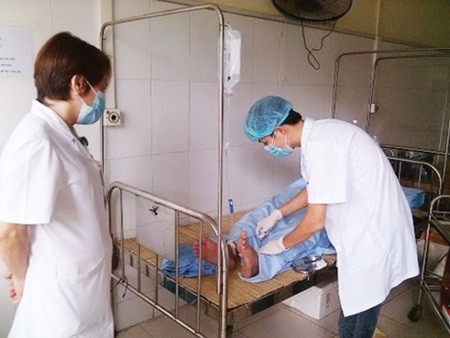 Health workers take care for a people living with HIV. Staff at health facilities continue to face a fairly high risk of infections from body fluids, blood or pathogens as protective measures are not effective. — Photo baohaiquan.vn
At a workshop on occupational diseases held on Thursday in HCM City, Dr Huynh Tan Tien, head of the city's Labour Health and Environment Protection Centre, said that obeying standard precautions was the best way to prevent the infection.
Recently, the Ha Noi Obstetrics and Gynaecology Hospital admitted a patient they did not know to be HIV positive. During emergency surgery, the hospital's 18 doctors and nurses did not wear protective clothing.
After four hours of surgery, the doctors and nurses took anti-HIV medications following a World Health Organisation recommendation.
Research also shows that between 2011 and 2014, HCM City Hospital for Tropical Diseases had 428 health officials exposed to HIV, accounting for 56.3 per cent of the total number of fields with staff exposed to HIV, such as police and rehabilitation centres. No one has tested HIV positive.
Sharp devices that caused wounds on the skin caused the highest rate (53.9 per cent) of transmission among healthcare staff, police, rehabilitation workers and others who have exposure to HIV, according to the research study.
Nurses who injected or took blood from patients with HIV were also at a high risk of exposure. Recommended precautions are frequent hand washing; wearing gloves, face masks and other clothing; proper transport of patients; and treatment of medical waste, Tien said.
The precautionary standards should be applied to all patients and health officials, he said. Infections can spread from patients to patients, patients to health officials, or health officials to patients.
Under the Ministry of Health's regulation, each hospital is required to have a faculty or team in charge of infection prevention and control.
Ha Kim Phuong, specialist of the Medical Examination and Treatment Department, said that after five years of implementation of the circular on guidance for hospital infection prevention and control in health facilities, 13.3 per cent of hospitals nationwide had not set up a faculty in charge of the issue.
More than 41 per cent of the country's total hospitals have no sterilizing units, and 93.2 per cent have not conducted surveys on hospital acquired infections since 2010.
Treatment
Dr Nguyen Viet Thinh of the city Pasteur Institute said that healthcare staff were also at risk of being infected by hepatitis.
Thinh recommended that healthcare staff receive vaccines against hepatitis.
Tien said that influenza and tuberculosis were also occupational diseases.
Health staff who have contact with hazardous elements in surgery and tests, including contact with people with HIV/AIDS and patients with hepatitis, should undergo testing for occupational diseases within six months after contact, Tien said.
Those staff who have contact with infectious diseases and tuberculosis, and work during disease outbreaks, should have examinations within 12 months.
A council for medical assessment specifies the level of health decline and labour capacity if the staff test positive for any of the occupational diseases. After the assessment, the staff is treated and examined periodically.
When resuming work, the staff are assigned to work in environments that are not considered hazardous or dangerous, Tien said.