TOKYO, Sept 27, 2010 (AFP) - A China-Japan row showed no sign of easing Monday as Tokyo said Beijing should pay for damage to its coastguard boats from the collisions that sparked their dispute almost three weeks ago.
With relations between the Asian giants at their worst level in years, Japan also urged its neighbour to do its part to repair ties that have been battered by the tense maritime incident in disputed waters in the East China Sea.
"Right now, the ball is in China's court," said Chief Cabinet Secretary Yoshito Sengoku, the right-hand man to Prime Minister Naoto Kan, stressing the need for healthy ties between the world's second and third biggest economies.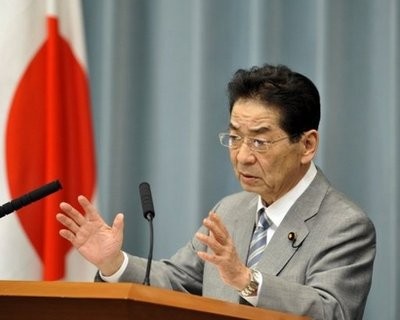 Yoshito Sengoku delivers an address at the prime minister's official residence in Tokyo on September 22, 2010. AFP
The ugly spat started when Japan's coastguard on September 8 arrested a Chinese skipper, who has since been released, on suspicion he had intentionally rammed two of its patrol vessels in a chase near a disputed island chain.
Japan released the captain, Zhan Qixiong, last week, hoping to defuse the diplomatic crisis -- but China has since twice demanded that Japan apologise and compensate China over the incident, a demand Kan flatly rejected Sunday.
The government of China -- where the incident has sparked a strong nationalistic response -- has called the arrest invalid and illegal, arguing that the string of islands have been part of China since ancient times.
The islets, known as Senkaku in Japan and Diaoyu in China, lie in an area between Japan's far-southern Okinawa island and Taiwan that has rich fishing grounds and is believed to contain oil and natural gas reserves.
On Monday, Japan's Sengoku, asked whether the work to the patrol boats would be paid for by Tokyo, told reporters that "Japan will have to demand" the cost of repairs through diplomatic channels from China.
Sengoku also said it was now up to China to start fixing the battered relationship. Beijing has launched a tirade of diplomatic protests, snubs and threats and, industry sources say, halted crucial mineral exports to Japan.
China was Monday still holding four Japanese nationals -- employees of a company working on a bid to clean up wartime-era Japanese chemical weapons -- whom it detained last week for allegedly filming a military installation.
Japan on Sunday evening asked China to guarantee their well-being and to allow regular meetings between them and their lawyers and Japanese diplomats, while urging a swift resolution from a humanitarian viewpoint, Sengoku said.
"China replied that they guarantee the safety of the four," he said.
As the China-Japan dispute has escalated in recent weeks, Washington has called for a resolution through dialogue while reaffirming its commitment to a half-century-old security alliance with Japan.
The United States, long the dominant military power in the Pacific, has also voiced support for Southeast Asian nations that have had their own territorial rows with the regional giant China.
Sengoku, asked how Japan would deal with China's new assertiveness in the East China Sea, told reporters: "It is all about how China realises its peaceful rise in international politics."
Asked about Japanese and Chinese fishing boats' activities in disputed waters, Sengoku said, "I think the Chinese and Japanese sides have to work on a process to prevent similar incidents from happening again."
He stressed that both sides need to strengthen what they call their mutually beneficial relationship based on common strategic interests.
Japan's government has come under pressure at home for caving in to Chinese demands when it freed the trawler captain, a decision the government insists was made independently by prosecutors.
A dozen parliamentarians from the ruling Democratic Party of Japan, led by lawmaker Jin Matsubara, in a statement Monday criticised the captain's release and proposed that Japan consider stationing troops on the disputed islands.