BEIJING, Sept 30, 2010 (AFP) - US billionaire philanthropist Warren Buffett said Thursday a banquet he hosted with Bill Gates for China's super-rich had exceeded expectations, and insisted no one had been pressed to give to charity.
Gates and Buffett, who have already persuaded 40 wealthy US individuals to hand over more than half of their fortunes, discussed charitable giving with Chinese business leaders at a dinner in a swanky Beijing hotel on Wednesday.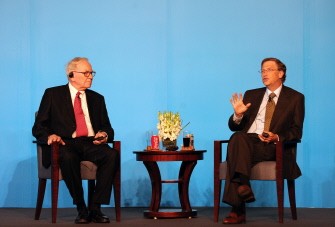 Warren Buffett (L) listens Bill Gates (R) speaks at press conference about philanthropy in Beijing on September 30, 2010. AFP
"It exceeded my expectations when we met with those 50 people last night. I had no idea what sort of reception we would receive but it couldn't have been better," Buffett, who made his fortune in investing, told reporters.
Buffett, who with Gates launched the "Giving Pledge" in June through which they convinced the 40 US individuals to give much of their fortunes away, said the ball was now in China's court on the future of philanthropy.
"What happens in China will depend on how the Chinese people feel about a project of this sort," he said.
According to Buffett, some guests interested in making charitable donations had expressed concerns about privacy.
"Some worry that their motives will be misunderstood, that people will think they're doing it to cleanse their reputation or whatever it may be," he said.
The two men refused to make public the guest-list over privacy concerns, but media reports have said Pan Shiyi and Zhang Xin, chairman and CEO of property developer SOHO China, and Niu Gensheng, founder of Mengniu Dairy, attended.
Tycoon Chen Guangbiao, who pledged this month to give his fortune -- estimated at more than 700 million dollars -- to charity after he died, was also present.
Software magnate Gates said that more than two-thirds of those invited came to the dinner, adding that some guests had handed over generous "gifts," although he would not elaborate further.
According to Buffett, the pair "did not pressure anybody" into giving, but instead solicited the views of guests on how philanthropy works in China.
The banquet has caused a stir in China, the world's second-largest economy, which had 64 dollar billionaires last year, second only to the United States' 403, according to Forbes magazine.
The state-run Global Times said in a commentary piece Wednesday that philanthropy was still in its infancy in China.