Search operations for the AirAsia plane, which crashed in the waters off Indonesia's Java coast on December 28, were suspended because of bad weather, said Indonesia's top rescue official.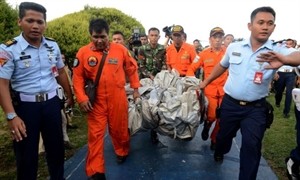 Rescue force does their duty (Source: VNA)
Chief of the Indonesia National Search and Rescue Agency Bambang Soelistyo said his agency deployed three ships to the site for hunting bodies of victims of the plane but the weather in the area is very unfavorable for the work with 2-3m high waves. He affirmed that rescue teams will continue their duty when the weather is better.
In addition to the three ships, other vessels are on their way to the location, including three warships, and two surveyor ships that can detect objects under sea surface, the official stated.
Singapore sent three ships to join the search.
Relatives of passengers on the ill-fated flight will be invited to the Surabaya city, where bodies of victims will be identified, to serve the collection of AND samples.
AirAsia flight QZ8501 went missing on December 28 when it was flying from Indonesia's Surabaya to Singapore. It carried 162 people, including 155 Indonesians, three Koreans, and each one from Malaysia, Singapore, Britain and France.
A large-scale search was arranged immediately with the participation of Indonesian authorities and active support from the international community.
After the two days of searching, the rescue force has recovered a number of bodies of passengers aboard the flight and debris of the aircraft in Karimata strait.
In another move, several aviation problems of AirAsia and Thai Airways were reported on December 30.
Thai airline officials said that an AirAsia flight bound for northeast Thailand turned back to the capital Bangkok shortly after taking off on December 30 when pilots detected an "irregularity" in the storage compartment.
Around two hours later, a Thai Airways Airbus A340-600 from Bangkok to London was forced to return to Bangkok shortly after takeoff. The pilot reported a technical problem.
The same day, in the Philippines, AirAsia Flight Z2272, which was flying from Manila overshot the runway in Kalibo airport as it landed in bad weather on the tourist island of Boracay.