MILAN, Nov 13, 2011 (AFP) - Whoever succeeds Silvio Berlusconi as prime minister faces a series of Herculean economic tasks, economists say.
To get Italy out of its debt crisis, the newcomer will have to convince Italians to put up with tough austerity measures while pushing through urgently needed reforms to jump-start an ailing economy.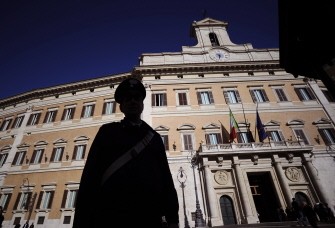 AFP - A carabiniere waits in front of the Italian Lower House in the center of Rome on November 12, 2011.
Barring a major surprise, all signs are that former European Union commissioner Mario Monti will be the one to pick up the poisoned chalice, said Eoin Ryan of economic and financial analysts IHS Global Insight.
Monti is widely expected to be nominated and approved as head of a transition government on Sunday or Monday.
His priorities, said Ryan, would be to "turn around a chronically weak economy, ensure that Italy survives in the bond markets and the eurozone, and revitalise stalled reforms promised to the EU and IMF."
The prospect of 68-year-old Monti, whose skills as an economist are generally acknowledged, has been generally well received but the markets are still on alert.
Whoever takes over from the flamboyant Berlusconi still has to pass the acid test of taking decisive political action, said Giuliano Noci, a professor of marketing at the Politecnico di Milano.
Before Berlusconi's departure, the parliament on Saturday approved a series of anti-crisis measures to reduce the country's colossal 1.9 trillion euro ($2.6 trillion) debt and get Italy back on the road to growth.
But these measures, which included cutting the red tape hampering businesses, selling off state assets, and carrying out reforms in the labour market, were only a start, Noci argued.
Tito Boeri, an economics professor at Milan's Bocconi University, agreed.
"Mario Monti is going to have to rapidly carry through two or three important reforms, because investors need something strong" given that Italy's borrowing rates reached an unsustainable level earlier last week, he said.
And the first test of market confidence will come with a bond auction on Monday.
For many observers, the first area that needs attention is pension reform.
The qualifying age for a pension is due to rise from 65 to 67 in 2026.
But Berlusconi's former coalition allies the Northern League stopped him from ending another system for calculating pensions under which anyone qualified for a pension after 40 years' of payments into the system.
This was a reform that Brussels had been calling for, and for Noci, "It's the only solution to rapidly bring down the debt."
Monti -- or whoever takes up the reins of power -- will also have to tighten the national purse strings still further.
This is another requirement from the European Union which, along with the International Monetary Fund and the European Central Bank, has been closely following the country's mounting economic difficulties.
According to the latest forecasts from Brussels, despite austerity measures adopted in recent months, Rome will still be unable to achieve a balanced budget in 2013.
The problem is that Italy's growth has virtually ground to a halt. And the European Commission said Thursday that the country's economy would virtually stagnate in 2012 with growth of just 0.1 percent.
Another area ripe for reform, say commentators, is the labour market -- but that is one hot potato Berlusconi preferred to leave untouched.
Italy's unions have threatened to strike if the government tries to relax employment laws to make it easier to fire employees.
The solution here, may be to look at a more balanced reform, with the support of the left, as a way of heading off industrial unrest.
Getting support from the left for workplace reforms was not the most pressing issue, said Boeri.
"The number one problem is getting young people into the labour market," he insisted. Youth unemployment is at about 30 percent.
What was needed, Boeri argued, was an overhaul of the two-track contract system to do away with the distinction between full staff members and fixed-term employees, he said.
One thing is certain: whoever takes over as head of government will have to be sure of a solid government majority, given the bitter medicine they will have to serve out.
"It will be a delicate balancing act between sending the message that Italy is submitting to the will of the international markets and persuading the population to accept harsh austerity," said Eoin Ryan.
But despite the vertiginous levels of debt, the new premier will inherit an economy which, despite everything, has good foundations.
"To be clear, Italy does not at this time have a real problem on the purely economic level," Noci stressed.
Italy's public deficit is forecast to be at 3.9 percent of GDP this year, less than many other European countries; the country's industry still has a strong and diverse export market; and household debt remains low.