Yemeni President Ali Abdullah Saleh, faced with more than eight months of street protests demanding his ouster, said Saturday he is ready to step down but his opponents said the apparent offer was a sham.
"I don't want power and I will give it up in the coming days," Yemen's veteran strongman said in a televised speech during which he launched a tirade against his opponents to whom he refused to hand over.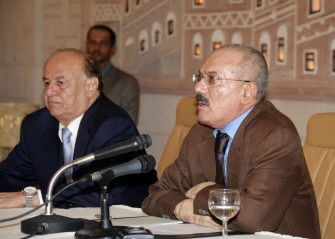 Yemeni President Ali Abdullah Saleh gives a speech which was also televised in Sanaa on October 8, 2011, where he said he is now ready to step down within days in the face of more than eight months of street protests demanding his ouster.
Saleh, 69, said it was "impossible to let them (the opposition) destroy the country," whereas there were "sincere men, whether they be military or civilian" who were capable of governing Yemen.
The president, in power for 33 years, has refused to quit under the terms of a transition plan drawn up by Yemen's oil-rich Arab neighbours in the Gulf.
"For the past nine months the Yemeni people have resisted this great plot in a way no other Arab country has resisted, not Tunisia or Egypt or Libya," Saleh said of the protests which have wracked Yemen since January.
He announced he would call a meeting of parliament soon. "We will meet again in the upcoming days to explain to the people the truth and developments in all transparency," he said.
Yemen's new Nobel Peace Prize laureate, leading women's activist Tawakkul Karman, said Saleh's latest offer could not be trusted and protests would continue.
"We don't believe this man and if he wants to step down, okay, that belongs to him," she told Al-Jazeera television.
"He has to hand over the power; he has to give the power that he has stolen to the revolution people, the revolution rule. We don't believe him," Karman said. "We are continuing our peaceful revolution."
Mohammed Sabri, a leader of the opposition Common Forum parliamentary group, told AFP that Saleh's comments were "pure disinformation."
"If he is serious, why does he not step down from power this evening, as the people of Yemen are demanding?" he asked.
Anti-regime protesters have since January occupied squares in Yemen's main cities and held regular demonstrations. They have been backed by opposition parties, some of which the Saleh regime accuses of having armed militias.
They also have been supported by General Ali Mohsen al-Ahmar, who defected along with his First Armoured Division and has been providing protection for protesters camped out at "Change Square" in Sanaa.
Saleh returned to Yemen on September 23 after three months' treatment in Saudi Arabia for wounds suffered in an explosion at his presidential compound in the capital.
He has opposed domestic and international calls to quit, insisting change should come about through the ballot box.
Saleh has repeatedly refused to sign a Gulf Cooperation Council-brokered power transfer deal under which he would hand over to his deputy Vice President Abdrabuh Mansur Hadi in return for immunity from prosecution.
The opposition has rejected any talks with Saleh before he steps down.
UN envoy to Yemen Jamal Benomar left Sanaa on Monday after urging the country's leaders to agree on a political deal.
"It's up to Yemeni leaders to reach a political agreement ... and they must not fail to take up their responsibility," state news agency Saba quoted him as saying.
On September 29, Saleh told Time and The Washington Post that he will not step down if his rivals are allowed to compete in future elections.
He was referring specifically to General Ahmar and powerful tribal chief Sheikh Sadiq al-Ahmar. "If we transfer power and they are there, this will mean that we have given in to a coup," Saleh said.