Viet Nam is into the second generation of institutional reforms that will help promote sustainable development and the nation's transition to a market economy.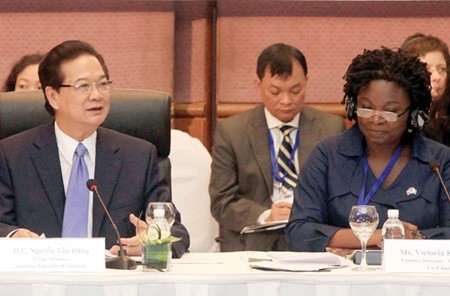 Prime Minister Nguyen Tan Dung (centre) gives a speech at the Viet Nam Development Partnership Forum which opened yesterday in Ha Noi. — VNA/VNS Photo Tran Viet
This comment was made at the Viet Nam Development Partnership Forum which opened yesterday in Ha Noi.
This year's theme is accelerating economic institutional reform, strengthening resilience and enhancing the competitiveness of Viet Nam's economy.
Prime Minister Nguyen Tan Dung said economic institutional reform and development of the domestic private sector was the policy focus of the Vietnamese Government.
Despite major challenges in 2014, especially the complicated developments in the East Sea which had threatened the country's stability and all-round development, PM Dung said Viet Nam has made remarkable achievements in all the fields of economics, politics, culture, social affairs, national defence, security, external affairs, international integration and improved business environment.
This year's inflation has been curbed at three per cent. The growth of exports reached 13 per cent with a total turnover of US$150 billion, three times the figure when the country joined the World Trade Organisation (WTO).
This is also the third straight year Viet Nam has enjoyed a trade surplus. Its value so far this year is $1.5 billion.
Viet Nam's foreign-exchange reserves increased significantly this year and are forecast to climb higher next year.
PM Dung said that six major tasks would be implemented next year to enhance the competitiveness of the national economy.
First, Viet Nam would focus on taking full advantage of all resources, improving business environment and developing private sector, particularly small and medium enterprises (SMEs).
Second, the country would continue to stabilise the macro-economy and constrain public debt within limits. Attempts would be made to keep inflation at 5 per cent to stimulate economic development. GDP growth was expected to increase from 5.9 per cent this year to 6.2 per cent in 2015 and around 6.5-7 per cent annually between 2016-20.
Third, Viet Nam would bolster international integration, implement signed economic and trade agreements and actively finalise ongoing negotiations. PM Dung said the free-trade agreements with the EU and South Korea would be concluded early next year.
Fourth, the nation was committed to accelerating economic restructuring, transforming the growth model, promoting public investment and speeding up equitisation of State-owned enterprises with a focus on the quality, not the number, of change-overs.
Viet Nam would continue to restructure the banking system, keeping bad debts to 3 per cent by next year, developing the local market while diversifying import-export markets to avoid dependence on one market – and also reform the agricultural sector.
The two last priorities focused on improvement in social justice and welfare and combating corruption. The country would also ensure transparency in public financial management.
World Bank director for Viet Nam, Victoria Kwakwa, suggested the country focus on strengthening institutional reforms to enhance its competitiveness and sustain growth.
However, she said the effective and transparent implementation of the new policies was a key to the success of the reform. She also called for stronger co-ordination across different government agencies.
She repeated that the World Bank and development partners were willing to support Viet Nam through policy consultancy, technical assistance and financial sources.
Pierre Charles Amilhat, director general for Development and Co-operation with EuropeAid, confirmed the EU would continue to provide development assistance to Viet Nam, despite the austerity policy in Europe. Assistance would focus on energy and institutional reforms to help Viet Nam become an industrial country by 2020.
The forum also focused on discussions and recommendations to promote the development of the domestic private sector, especially SMEs that make up 90 per cent of the country's economy.
According to experts, the most of these companies operate in a fragmented fashion and lack strong management skills. Thus, they have not benefited adequately from positive spill-over from FDI companies and their integration into global value-chains has limited.
"Institutional reform will create new momentum for economic growth while development of the private sector will be an important contribution to build a self-reliance economy in Viet Nam," said the Minister of Planning and Investment, Bui Quang Vinh.
Viet Nam has actively issued policies to facilitate business climate and investment through amendments in Law on Investment and Enterprise. The cost of law compliance has also fallen through reforms in administrative procedures on land, tax and customs.