Three suicide attackers mounted an assault on the offices of a non-governmental organisation in the Afghan city of Kandahar, killing three people on Monday, officials said.
One attacker detonated a car bomb outside the offices, killing three civilians and wounding two others before two other attackers entered the compound where they were surrounded by police, said a police spokesman, Ghorzang.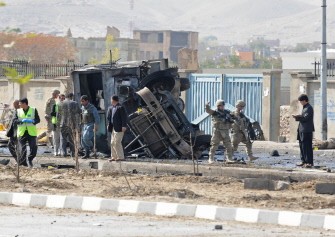 Afghanistan's security force and rescue personnel and NATO troops inspect the site of a suicide attack near the Darul Aman palace in Kabul on October 29, 2011.
The Kandahar government's media office gave the toll, while a doctor at nearby Mirwais hospital said it had received three wounded, two of whom had since died.
Sporadic gunfire was heard ongoing at the site.
The car bomber had exploded in front of the offices of the US-based International Relief and Development offices in the southern city, officials said.
"An attack took place on IRD and during this attack three civilians died, a Nepali (guard) and one civilian were also wounded in the attack," said the media office statement.
Taliban spokesman Yousuf Ahmadi said the insurgent group were responsible for a car bomb attack in Kandahar but claimed it was on the offices of the United Nations refugee agency.