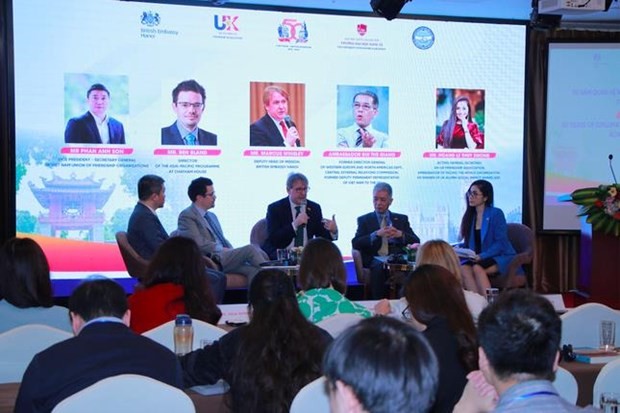 The seminar on the Vietnam - UK relations in Hanoi on March 21 (Photo: tienphong.vn)

Opening the event, Phan Anh Son, Vice President and Secretary-General of the Vietnam Union of Friendship Organizations (VUFO), said since the official establishment of the diplomatic relationship on September 11, 1973, bilateral ties have continuously been reinforced and developing. This is especially the case since the elevation of relations to a strategic partnership in September 2010, which has opened up many cooperation frameworks such as the strategic dialogue, the joint committee for economic and trade cooperation, and the working group on defense.
Thanks to the effective implementation of the UK - Vietnam Free Trade Agreement (UKVFTA), bilateral economic links have been growing strongly. Trade in goods and services reached about 5.9 billion pounds (US$7.2 billion) in 2022, up 12.4% year on year.
The UK is currently a leading educational partner of Vietnam with 74 transnational educational programs of 23 British universities.
The two sides have also unceasingly strengthened collaboration in global issues, especially climate change response, he noted, elaborating that they are working together towards the Just Energy Transition Partnership (JETP) and also cooperating closely at international and regional forums.
In addition, Vietnam and the UK have always attached importance to respect for, the maintenance of peace, stability, and security, as well as the guaranteeing of navigation and overflight freedom in the East Sea in line with international law. The two countries see the 1982 United Nations Convention on the Law of the Sea (UNCLOS) as the legal framework for all activities in seas and oceans, Son went on.
Regarding people-to-people diplomacy, the Vietnam - UK Friendship Association has been organizing various activities to help intensify the friendship, mutual understanding, and cooperation between the two peoples, thus contributing to the countries' strategic partnership, he added.
He expressed his belief that based on the achievements obtained over the last 50 years, the friendship, and multifaceted cooperation, relations between Vietnam and the UK will continue to be promoted, meeting the aspirations of and generating practical benefits for the two peoples and helping with regional and global peace, stability, and development.
For his part, Marcus Winsley, Deputy Ambassador of the UK to Vietnam, held that bilateral relations are now in their prime. The Covid-19 pandemic is also the time for the two countries to lift cooperation in many areas to a new level, from politics, economy, and education to security and defense, particularly the combat against human trafficking and transnational crimes.
He noted his country is ready to assist the Vietnamese Government in improving people's English language skills.
Both sides should further share information about investment attraction, market opening, and technology development to realize the commitments to sustainable development and net zero emissions by 2050. They also need to work more closely towards the JETP, according to the diplomat.