South Korea's new point man on North Korea will visit the United States this week to help coordinate policy between the two allies, it was announced Monday.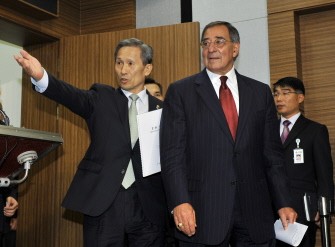 South Korean Defense Minister Kim Kwan-Jin (L) ushers in US Defense Secretary Leon Panetta (R) before a joint press conference in Seoul on October 28, 2011.
Unification Minister Yu Woo-Ik will visit Washington and New York from Wednesday to next Monday to meet Deputy Secretary of State William Burns and Senator Joe Lieberman, the chairman of the Homeland Security and Government Affairs Committee, a ministry spokesman said.
"The trip is aimed at fostering bilateral understanding on issues of unification and inter-Korean affairs and strengthening coordination on North Korean affairs," spokesman Choi Boh-Seon told reporters.
Yu, making his first trip to the US since he took office in September, will also meet UN Secretary General Ban Ki-moon to discuss "humanitarian aid issues", Choi said without elaborating.
Yu, a former ambassador to China, replaced hardliner Hyun In-Taek. He has pledged to be flexible in dealing with the communist state in an apparent sign of a push to improve ties.
Cross-border relations have been icy since Seoul accused Pyongyang of torpedoing one of its warships in March 2010 with the loss of 46 lives.
The North denied involvement but went on to shell a border island last November, killing four South Koreans and briefly sparking fears of war.
The South cut off most trade with the impoverished North in reprisal for the warship incident.
South Korea and the United States have held exploratory talks with the North in recent months about the prospect of resuming six-nation disarmament negotiations, but no agreement has been reached.