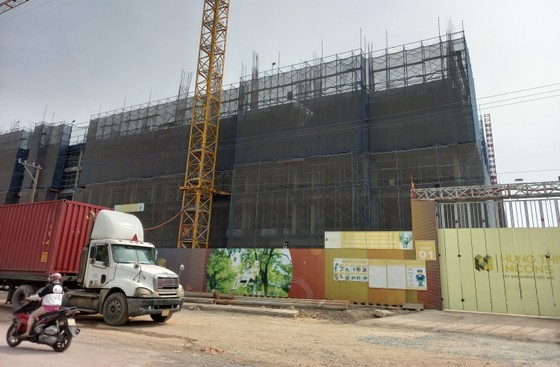 Real estate market bobs about on choppy water
The decline of the real estate market has been pushing investors and speculative buyers to manage to escape losses. As a consequence, more houses have been advertised to sell.
Existing home sales dropped dramatically. Recently, the Novaland Group issued an unprecedented sales policy at the Aqua City project in the Southern Province of Dong Nai.
Accordingly, the group offered a preferential policy for some products with up to nearly 50 percent discount, such as the price of the shophouse finishing the outside and the raw part inside reduced to VND6 billion for buyers who agreed to pay 95 percent of the price listed more than VND13.1 billion before. Moreover, a customer who chooses another payment schedule will also enjoy a discount of up to 17 percent.
Another large real estate - Hung Thinh Group - has just offered the last sale of the Richmond Quy Nhon project in the Central Province of Binh Dinh's Quy Nhon City and announced a discount of up to 50 percent compared to when it was opened for sale. Now, the group's house price was at only VND59 million per square meter for a house that has been built with a rough finish on the outside. Meanwhile, the group also announced a reduction of 46 percent for the remaining apartments in the Moonlight Avenue project in Thu Duc City in Ho Chi Minh City.
Not only do investors reduce the selling price but even secondary investors and real estate speculators also accept to sell houses at lower prices to cut losses. Miss L.T. in Thu Duc City bought three apartments at the same time at the New Galaxy apartment project in Di An City of Binh Duong Province in 2020, which was promoted as a SmartHome apartment project located in the area of Vietnam National University and next to the Ring Road 2 expectedly to attract many potential buyers. But until now, because she could not bear the loan interest and financial pressures at the end of the year, so she put up an advertisement for three apartments even acceptance of a loss of VND800 million.
Similarly, Ms. Ly Le in Thu Dau Mot City of Binh Duong Province bought a 2-bedroom apartment two years ago with the aim to earn more money when housing prices increase, but she was unable to sell it for one month; finally, she accepted a loss of VND100 million compared to the purchase price.
In the same gloomy context of the apartment market, the land plot market is also decreasing in price. Seeing that many people poured money into buying land lots in the suburbs of Ho Chi Minh City, Mr. Nguyen Hung Vy in Ho Chi Minh City's Tan Binh District followed suit. In early January 2022, he decided to spend VND5 billion to buy two land lots with a total area of 1,000 square meters in Trung Lap Ha Commune in Cu Chi District with the expectation that housing prices will increase and he can earn more money.
At that time, it was rumored that Cu Chi District will become an urban district in the near future making garden lands, land plots, and agricultural land in the outlying district attracted many investors from all over the country. Two months after buying the land lots, several customers asked to buy, but Mr. Vy refused to sell even though he made a profit of VND200 million per plot of land because he believed the price would increase more.
The market suddenly cooled down whereas banks tightened credit, and cash flow was blocked, Mr. Vy had no choice but to ask a broker in Cu Chi District to offer a discount of up to VND300 million per plot of land to ease his difficulties; nevertheless, no buyers paid attention to the land.
Mr. Nguyen Hong Viet, a professional real estate broker in the Southeast region, shared that his experience in the housing and land market showed that many land lots and apartments which can't be sold began to hit the market a lot when the owner must mature before December 31, 2022.
At the same time, many banks have not been able to disburse real estate loans, making it difficult for investors to rotate capital, forcing them to sell houses by all means including big losses.
According to the analysis of Mr. Pham Duc Toan, General Director of EZ Investment and Development Joint Stock Company, it is true that many real estate projects decrease in price. But the fact is that the selling price in the previous period has been pushed up, and customers can buy with many incentives such as interest-free loans for 18-24 months, gift packages for furniture, and purchase promotion coupons. When giving customers a discount, investors have cut these packages, asking for a one-time payment of up to 95 percent; therefore, the reduction is actually not too shocking.
Deputy director of research and development of DKRA Vietnam Group Vo Hong Thang said that many investors accepted losses to sell houses because, in recent years, when the real estate market is active and interest rates are low, many investors use financial leverage with an intention to quickly make a profit, but when the market closes suddenly, they were forced to accept a stop loss.
The latest report on the land plot market in five suburban districts of Ho Chi Minh City by DKRA Vietnam Group shows that the residential plot market has shown signs of deceleration from the end of April 2022 and decreased sharply towards the end of the year. As of December 31, the project's land price fell to the lowest level of 5 percent and the highest up to 21 percent over the same period last year.
Specifically, in Hoc Mon District, the retail price of land plots decreased by 10 percent-15 percent while in Can Gio District it moved down 11 percent-18 percent and in Cu Chi district down 13 percent-25 percent. Although the selling price was down much, the successful transactions were less and less, market liquidity decreased by 70 percent-75 percent compared to the beginning of the year.