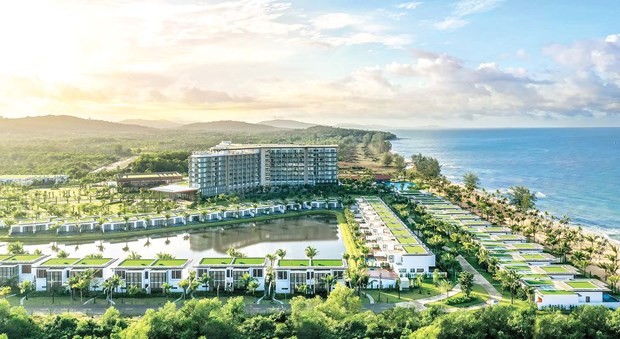 The tightening of real estate loans and high-interest rates are among the roadblocks to the market. (Photo: VNA)
Decree No. 10/2023/ND-CP on amending and supplementing some articles of the decree guiding the implementation of the Land Law has come into force from May 20, 2023.
The tightening of real estate loans and high-interest rates are among the roadblocks to the market. Meanwhile, the channel for mobilizing investment capital through corporate bonds has yet to revitalize.
Real estate consulting company DKRA said the policies rolled out in the first months of this year aiming to untangle knots in the real estate market have failed to address liquidity-related issues.
"Vietnam experienced remarkable growth in the past ten years with international travelers increasing by 16.9 percent per year between 2009 and 2019," said Mauro Gasparotti, Director of Savills Hotels APAC.
"High demand boosted confidence in the sector, with a strong development pipeline. On average, about 10,000 rooms entered the market each year between 2017 and 2019," Mauro said.
"This strong growth was interrupted by the pandemic, and it will take time to recreate the necessary momentum to reach pre-pandemic levels. Given the strong pipeline, even pre-pandemic, Vietnam needed 20 percent to 30 percent growth in annual demand to keep pace with new openings."
The main bottleneck lies in the issuance of ownership certificates for condotels, shophouses, and resort villas, as well as the determination of ownership rights and duration, among others.
Under Decree No. 10/2023/ND-CP, buyers of condotels, officetels, and resort villas have ownership certificates from May 20.
The ownership term of the condotel depends on the purpose of land use following current regulations but not exceeding 50 years of the ownership term for land allocated or leased by the State for commercial or service use.
Buyers may only own land and apartments during the remaining land use period, not for long-term use as residential land. For many years, resort real estate development has been seen as a way to develop tourism infrastructure to achieve the goals of the Vietnam Tourism Development Strategy.
According to this strategy, Vietnam targets to become an attractive tourist destination by 2030 and in the world's top 30 countries in terms of tourism competitiveness.
The General Statistics Office reported that Vietnam's tourism industry recorded a strong recovery with a year-on-year 19-fold increase in foreign tourists to 3.7 million in the first four months of 2023.
The strong growth of the tourism industry in the first four months will revive the resort real estate market after two years of losses due to the Covid-19 pandemic and the return on rental income will bring confidence back to investors.