The newborn baby boy kidnapped from the Central Obstetrics Hospital II in Hanoi on November 3 has been safely returned to his mother's arm yesterday.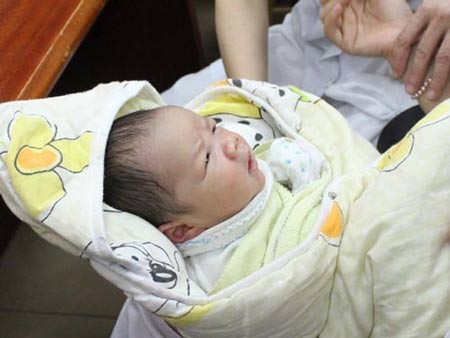 The kidnapped baby returned to his mother (Photo: SGGP)
After several days of intensive search, the investigation police along with the Hanoi police recovered the baby boy from his kidnapper, 29-year-old Nguyen Thi Le of Dong Anh District in Hanoi.
Police arrested Nguyen Thi Le, who originally hails from the northern province of Bac Giang. Le confessed to her crime and told the police that because of a quarrel with her husband in mid October, she had left her house.
During her phase of wandering from her home she delivered a child which died around birth. Depressed and unhappy, she thought of kidnapping a baby, as she was still with milk.
She meticulously planned the hospital kidnapping and while in hospital, she stole a white coat to wear over her clothes. She then approached the baby's mother, Tran Thi Thom, saying that she had to take the baby "for a blood test".
She then immediately returned with the baby to Bac Giang Province for a few days, but when she brought the child to her husband's house in Dong Anh District, police were waiting to arrest her.
Soon after receiving news of the return of the kidnapped baby on Tuesday, Lieutenant General Tran Dai Quang from the Ministry of Public Security congratulated the police and praised their efficiency in solving the case with such expediency.
Related article:
Newborn kidnapped from hospital in Hanoi
Hospital, Police join hands in search for kidnapped baby