TOKYO, Sept 20, 2010 (AFP) - Japan said Monday it regretted China's decision to suspend high-level exchanges over Tokyo's arrest of a Chinese boat captain in disputed waters, urging Beijing not to let the spat ruin their relationship.
Beijing on Sunday had threatened Japan with "strong counter-measures" after Japan extended the detention of the boat captain accused of intentionally ramming his trawler into two Japanese patrol vessels in the East China Sea.
The incident near an island chain claimed by both countries as well as Taiwan -- an area with rich fishing grounds as well as possible oil and gas deposits -- has sparked the worst row between the Asian neighbours in years.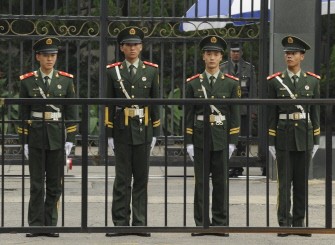 Chinese paramilitary policemen keep watch outside the Japanese embassy in Beijing on September 20, 2010. AFP
"It is regrettable if what was reported last night is true," Noriyuki Shikata, a spokesman for Japanese Prime Minister Naoto Kan, told AFP, adding that Tokyo had been given no advance notice of Beijing's move.
"What we do under this situation is to handle this case calmly in accordance with Japanese legal procedures," he said.
"We call for calm and careful action (by China) so that this particular incident would not affect the whole of relations between Japan and China."
Beijing had already postponed planned talks about joint energy exploration in the disputed waters, and halted contacts with Tokyo on increasing civilian flights between the neighbours, the world's number two and three economies.
Kan and Chinese Premier Wen Jiabao will be in New York this week for a UN gathering, where they have no plans to meet on the sidelines but will hold separate talks with US President Barack Obama.
Shikata said Beijing had cancelled an invitation to about 1,000 Japanese youths to visit the World Expo in Shanghai, a trip that had been due to start Tuesday, with the Chinese side citing the bilateral "atmosphere" as the reason.
"We think the postponement right before the departure is extremely inappropriate and regrettable," the spokesman said.
Japanese authorities arrested the Chinese captain, Zhan Qixiong, following the September 7 collision, which Tokyo says resulted in a high-seas chase, but they have since released his crew and boat.
He has been arrested on suspicion of obstructing official duties. The extension of his detention on Sunday for 10 days is the last possible under Japanese law, at which point he must be indicted or released.
"The incident created by the Japanese side has severely damaged China-Japan relations," China's assistant foreign minister Wang Guangya was quoted as saying to Japan's ambassador, who was summoned for a sixth time on Sunday.
"Japan shall bear all the consequences that arise," he added.
On Saturday, small groups of anti-Japan demonstrators protested in Beijing, Shanghai, Hong Kong and the northeastern city of Shenyang, on the anniversary of Japan's 1931 invasion of Manchuria.
The Chinese public still has strong feelings about atrocities committed by Japanese forces when they occupied swathes of China before and during World War II.
Security was still tight in the area around the Japanese embassy in Beijing on Monday, in possible anticipation of fresh protests.
Japanese Foreign Minister Seiji Maehara on Sunday tried to ease the impact of the incident, saying that China had helped restrain the demonstrations, which he called "sporadic protest activities".
He also described the collision as "gu-hatsuteki", a Japanese word which could be translated as incidental or unforeseen -- softer language than had been used before.
"Even though the actions of the Chinese and Japanese governments have escalated, I still think the situation is under control," Cheng Xiaohe, a professor of international relations at Renmin University in Beijing, told AFP.
"China-Japan relations are very broad and no one wants good relations to worsen over this incident."