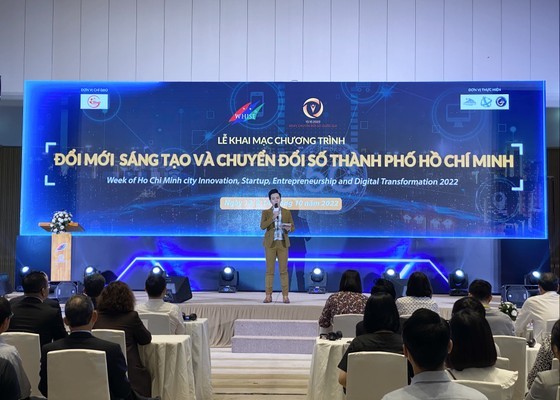 Week of HCMC Innovation, Startup, Entrepreneurship is an annual event of HCMC that is highly appreciated by the community

In 2022, GII shows that Vietnam stays at the 48th position out of 132 nations, belonging to the group with the greatest improvements of the decade. It is recognized as one of the few countries in the low-average income group experiencing the fastest innovation speed, said Deputy Minister of Science and Technology Bui The Duy.
Innovative startup is one indispensable part contributing to this ranking. Ho Chi Minh City has been implementing its project 'Fostering the Growth of an Innovative Startup Ecosystem in HCMC in the 2021-2025 Period'. It has formed a network of innovative startup centers, developed a system to collect and share science-technology information to serve research purposes, created a location for the introduction and pilot of products by innovative startups, and established an online training system on product yield, quality.
Director of the HCMC Department of Science and Technology Nguyen Viet Dung stated that last year was the year with various outstanding achievements of the innovative startup community in HCMC. Many related events were successfully held. That led to the ranking of 111th of HCMC out of 1,000 cities worldwide as to the most innovative and active. This year, HCMC aims to enter the group of top-100 innovative, active cities in the world.
However, reality shows that many regions in Vietnam are still frustrated in the task of improving their innovation index. The reason is that GII's criteria are assessed in a national scale, yet many of them do not exist in the local scale. Adding to that is the unfamiliarity of the local authorities to these international criteria.
Deputy Minister Bui The Duy shared that since each province, city has its own specific socio-economic features and development directions, there should be an innovation criteria set especially for them.
Therefore, the Ministry of Science and Technology has collaborated with WIPO and related agencies to develop such local sets, which are now piloted in 20 provinces and cities of six different economic zones with different income levels and economic structures.
The results show that most criteria are reliable enough to provide useful conclusions while a few need adjustments to better suit the local context. Based on that pilot, the Science and Technology Ministry has proposed that the Government allow a formal implementation of these criteria sets nationwide from 2023.
This Ministry stressed that the People's Committee of each province and city must identify this implementation as a focused mission each year in order to boost the socio-economic growth of that area via science-technology and innovation.