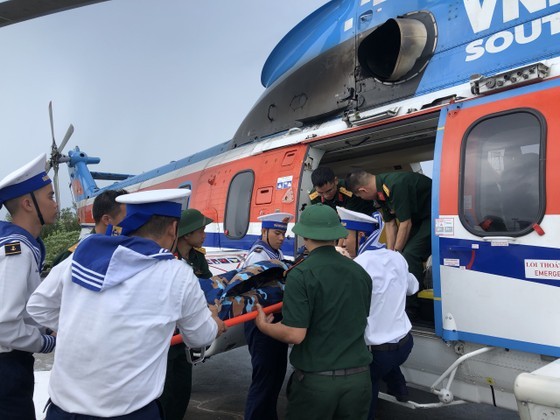 The patient is transported from Son Ca Island to the mainland. (Photo: SGGP)
The Military Hospital 175, on January 6, said that it had recently given emergency treatment to soldier P.V.D., 30, working in Son Ca Island of Truong Sa Island District in Khanh Hoa Province, who suffered a cervical spine injury, high cervical spinal cord injury, and traumatic brain injury, and was transported by helicopter to Military Hospital 175 on the evening of January 5.
Previously, the patient fell into the trench while on duty when it was raining heavily and was given first aid measures by doctors of the Son Ca Island Hospital, who, at the same time, connected consultations via Telemedicine with doctors of Military Hospital 175.
Because the patient's condition got worse, he was suggested to be sent back to the mainland for treatment soon.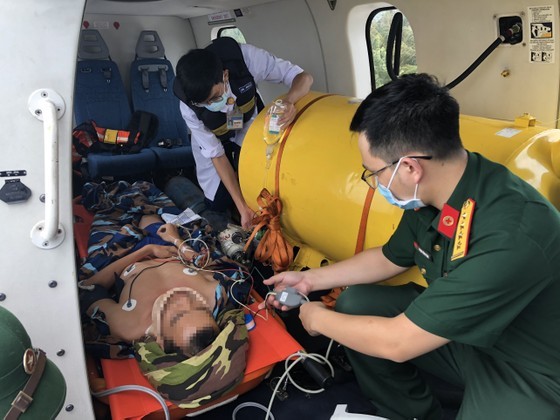 The patient is monitored carefully on the helicopter. (Photo: SGGP)
The 18th Army Corps sent a helicopter to coordinate with the helicopter-based emergency medical services (HEMS) of the Military Hospital 175 led by Captain-Doctor Pham Cong Tinh of the Intensive Care Unit to fly to Son Ca Island to bring the patient back to the mainland.
However, due to the influence of the storm, the helicopter could not fly directly from the hospital's helipad, so the emergency team went from HCMC to Vung Tau at 11:30 p.m. on January 4 and departed to Truong Sa Island District at 6:24 a.m. on January 5.
According to Doctor Pham Cong Tinh, the patient was received in a state of consciousness with signs of quadriplegia. Especially, the right half of the body was completely paralyzed, and the left side was weak. The patient was spontaneous breathing, with pulse indicators, blood pressure, and SPO2 remaining within stable limits.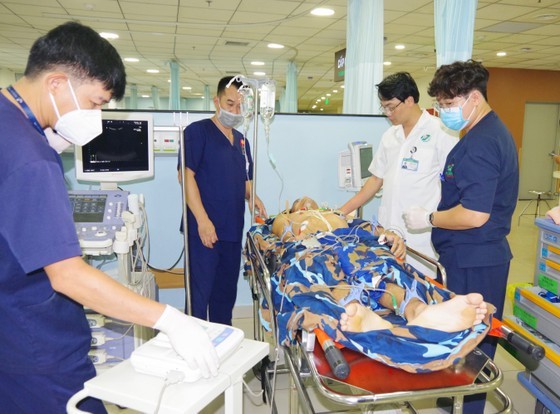 The patient is being treated at Military Hospital 175. (Photo: SGGP)
The emergency flight landed safely at the helipad of the Orthopedic Building at the Military Hospital 175 at 5:30 p.m. on January 5. Immediately, the patient was taken to the hospital's emergency department for special tests, consultations, and appropriate treatment for the patient.