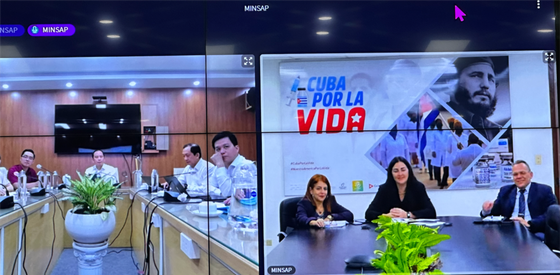 A virtual talk on community health care was held on March 23 between the HCMC Department of Health and the primary health care board of Cuba's Health Ministry. (Photo: SGGP)
Attending the event was Doctor Ailuj Casanova Baroto, head of Cuba's primary health care board and Cuban medical experts; Doctor Tang Chi Thuong, director of the HCMC Department of Health and Ms.Ariadne Feo Labrada, Consul General of the Republic of Cuba to HCMC.
Doctor Ailuj Casanova Baroto said that Cuba's public healthcare system is recognized as one of the most effective systems in the world and is operated by the Ministry of Health to guarantee that all Cuban residents and citizens can easily access it. The system focuses on the prevention of diseases and the enhancement of public health care education. Community Health Centers which are an important part of the system have been established in urban and rural areas nationwide. It estimates that there is one health clinic for 1,000 households.
Medical staff at the clinics are trained to diagnose and treat basic illnesses and provide disease preventive measures. The clinics also provide healthcare services, such as vaccination, regular health checks, and care for pregnant women and newborns. Groups of specialized doctors of hospitals periodically cooperate with Community Health Centers to give medical examinations and treatment to local residents, he added.
In addition, Cuba's public healthcare system also pays attention to studying and developing new healthcare technologies and methods ensuring the system always provides the best approaches in healthcare to people.
The Ministry of Health of Cuba expressed its willingness to support HCMC in implementing a community health development project. At first, Cuba will send two specialized doctors to HCMC to make surveys and come to an agreement with HCMC's Health Department on contents that need to be developed in the coming time. The ministry hoped to receive healthcare professionals from the southern metropolis to visit Cuba as well as learn about public healthcare models.