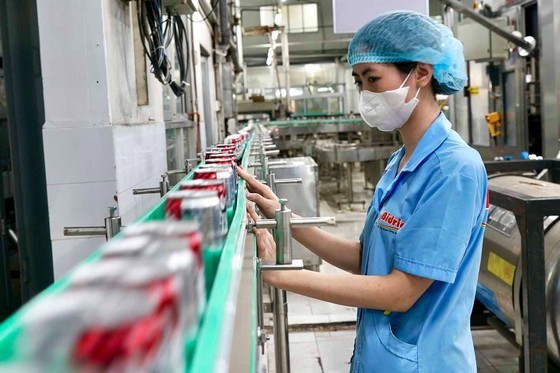 Workers of Tan Quang Minh Manufacturing and Trading Co. Ltd. in Vinh Loc Industrial Park (Binh Chanh District of HCMC) (Photo: SGGP)

After two years severely affected by the Covid-19 pandemic as well as global conflict and supply chain disruption, the whole political system has cooperated with city dwellers and the local business community to gradually resume economic activities in the city, resulting in promising achievements.
The growth rate of HCMC rose significantly from -6.78 percent in 2021 to 9.03 percent in 2022. In the first 6 months this year, the economy status in the world and the country experienced much trouble, the figure dropped to 3.55 percent.
In general, the growth speed of HCMC has slowed down a little due to a drop in various driving forces. In the 1996-2010 period, this rate was 10.2 percent per year, which was 1.6 times as high as the national average. In the next 5 years, this figure fell to 7.22 percent per year, and then to 6.41 percent in the 2016-2020 period.
Meanwhile, the quality of economic growth does not meet the set target either. There are still limits in the use of hi-tech machinery in manufacturing, leading to difficulties in upgrading the position in the supply chain and establishing a modern economic structure. The operations of industrial parks, export processing zones, and hi-tech parks are not effective enough to attract investments from major corporations. The final problem is outdated traffic infrastructure compared to the logistics demands.
At the same time, due to crowded population, the socio-economic growth has created much pressure on the environment of HCMC. It is severely affected by climate change, air and noise pollutions.
The disbursement rate of public investment in HCMC last year was disappointingly low in the country. At the end of this August, the city only disbursed 28 percent of the allocated public investment compared to the target of 35 percent.
Resolution No.98/2023/ QH15 (Resolution 98) about piloting specific mechanisms and policies for the growth of HCMC was approved by the National Assembly and effective as of August 1. It has provided the needed chance for the city to tackle many problems.
Economic expert Dr. Tran Du Lich stated that Resolution 98 is able to remove obstacles related to institution and infrastructure, possibly leading to solutions for other issues as well. Such promising matters like green finance and the carbon credit market have been mentioned and received many valuable proposals from experts, scientists, and the business community.
In a recent meeting held by SGGP News, Chairman of the HCMC People's Committee Phan Van Mai insisted that the city must quickly follow the green transformation trend to create more competitiveness for its economy and contribute to the national one.
After listing typical problems in the city now like gradually reducing growth momentum, climate change, quality of life, energy security, conservation and development of biodiversity, he said that without green transformation and systematic strategies, long-term policies, the economy of HCMC cannot compete with other players, let alone contributing to the national economy.
What is more, many developed nations – the main clients of HCMC – are applying an increasing number of technical barriers to stop non-eco-friendly products from entering their market. From this October, the EU will pilot the Carbon Border Adjustment Mechanism (CBAM) before formally implementing it from 2026. This will increase export costs as well as reductions in orders. For instance, aluminium and steel manufacturers can see a 4-percent drop of export orders, resulting in a decrease of output by 0.4-0.8 percent.
At the 2021 United Nations Climate Change Conference (COP26), held by UN in November 2021, Prime Minister Pham Minh Chinh announced Vietnam's commitment to reducing 30 percent of methane emissions in 2030 and reaching net zero emissions 2050. To fulfill this, the Green Growth program was specified into the 'National Strategy on Green Growth in the 2011-2020 Period, with a Vision to 2050'.
The Strategy states that green growth allows more effective uses of natural resources, greenhouse gas emission decrease, climate change coping, hunger and poverty reduction, which will all create a driving force for sustainable economic growth.
HCMC has then introduced the implementation plan for the 'Green Growth Strategy for Sustainable Development in HCMC until 2030'.
The 2023 Economic Forum is a major playground to provide opportunities for national and international business communities to connect and share experience on green growth and circular economy. HCMC collects all valuable proposals and measures for consideration to select the most suitable one for its characteristics. It will then submit its own recommendations about practical models, feasible solutions and policies at a macro level.
Meanwhile, the domestic business community can have better understanding on green growth, expand their connections, and thus can deliver more productive proposals for the city to tackle current issues.