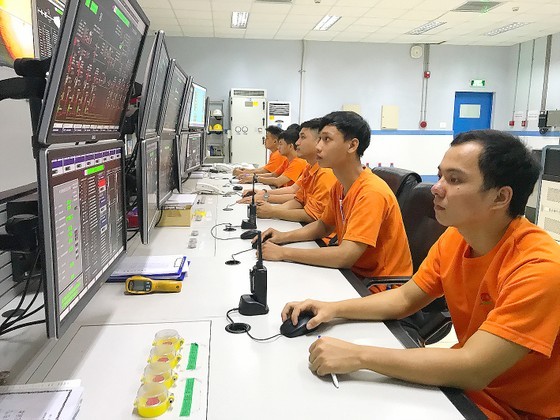 Workers at a company monitor the automatic production process through parameters on a computer screen(Photo: SGGP)
The development process of each enterprise is associated with the development lifeline of its key products. The life cycle of a product is broken into four stages—introduction, growth, maturity, and decline. The product life cycle depends on the management efforts inside each enterprise and the change in the business environment.
In recent years, the Covid-19 epidemic and many conflicts in the world caused an economic recession to take place on a global scale, greatly affecting the change in the business environment of enterprises. In that context, businesses need to change their business strategies appropriately to start a new development cycle.
The state policies pave the way for business growth
The Government's policy on digital technology, green production, circular economy and foreign policy are important factors in the new growth cycle. Businesses can gradually identify new trends and adapt themselves; however, that would be very slow. Therefore, the Government's development policy plays an important role in promoting enterprises' transformation.
First of all, the state needs to have orientation through development planning. Existing industrial zones/clusters need to be re-planned in the direction of stimulating enterprises to switch to high-tech applications, green production, circular economy and digital transformation.
In the current context, the construction of new development spaces is an urgent task to create opportunities for business development. When infrastructure investment projects are implemented, it will create opportunities for many businesses in the fields of material production and business, construction, consumer industry and ancillary services.
The promotion of investment in new development space not only meets the needs of future development, but also is an effective solution to help domestic enterprises restore production, as well as create more jobs. It should be noted that the investment in infrastructure development should aim to assist domestic enterprises. Accordingly, it is necessary to ensure a certain percentage of domestic enterprises participate in the implementation of bidding packages for the construction of large projects.
Public-private cooperation should be strengthened
The budget capital is limited, so it is necessary to promote infrastructure development through public-private partnership capital. In particular, should consider choosing the form of BT (build-transfer) for investment in traffic works. With BT form, private enterprises will be responsible for construction while the state can pay or allocate land for private enterprises. The process of allocating land for businesses will then create more conditions for economic development, effectively exploit the land fund and collect more money for the state budget.
In the current period, enterprises need to restructure to start a new development cycle, so they need investment support. Therefore, it is very important to expand the currency and reduce the lending interest rates for production and business. Besides, it is necessary to reactivate the bond and stock market to create more long-term capital mobilization channels for businesses.
For the bond market, the biggest problem right now is investor confidence in corporate bonds. Therefore, it is necessary to amend the regulations related to the release. When people regain their trust in the bond market, the special market will be better again. Meanwhile, for the stock market, the government necessarily continues to ensure the transparency of information with a focus on tightening market discipline, especially the state supervision and management stage to minimize price manipulation.
Over the past time, foreign-invested enterprises have made an important contribution to promoting economic growth, creating jobs for residents, contributing to improving the trade balance and creating the spillover of technology for the entire economy. The present policies to attract FDI enterprises are mainly tax incentives, land rent exemption or reduction, and legal assistance.
However, it should be noted that many FDI enterprises poured money into any field, and local enterprises in that field have been increasingly shrinking or moving to other fields. Therefore, the government should determine to attract high-tech application fields and connect with domestic enterprises to participate in the global value chain.
It is necessary to reconsider the value chain structure of each industry and assess the ability and level of participation of local enterprises; based on that, the government will know which field needs to attract FDI enterprises for supplementing the economy or the stages of local enterprises can't do.
In order to create a resonance between FDI enterprises and local enterprises, it is necessary to have policies to promote FDI enterprises to develop satellite supply networks with domestic small and medium enterprises. Last but not least, the government should develop policies to help local enterprises improve their management capacity as well as nurture a global mindset on standards, markets, technology, and human resources in local enterprises so that they can join the global supply network.
Furthermore, it is necessary to speed up administrative reform and completely digitize state management activities for enterprises such as business registration, licensing mining, and tax settlement.
Civil servants' manner is significant as well. The government should train civil servants while handling files of businesses as well as raise their wages.