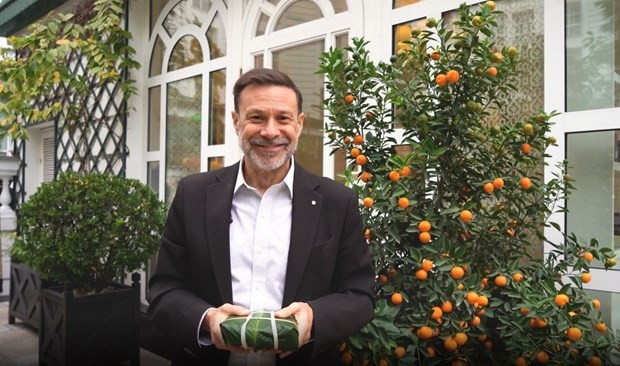 Australian Ambassador to Vietnam Andrew Goledzinowski and a Chung cake he made. (Photo: Hanoi Times)
The diplomat came to a small Tet market held in Metropole Hotel in Hanoi, where he explored the traditions of making "Chung" cake (square glutinous rice) – the soul of Tet, and family gatherings during the biggest festival.
As the Lunar New Year is just around the corner, Danish Ambassador to Vietnam Nicolai Prytz recalled major events in 2022 when Vietnam and Denmark celebrated the 50th founding anniversary of their diplomatic ties, notably the visit to Vietnam by Crown Prince Frederik and Crown Princess Mary Elizabeth from October 31 to November 3.
The couple were accompanied by Danish firms mainly operating in energy, he said, stressing that the two sides expressed their hope to work together for a greener future.
The visit contributed to promoting the bilateral cooperation in both politics and trade, the ambassador said, using this occasion to wish Vietnamese partners and people a happy New Year.
Denmark wants to continue its close cooperation with Vietnam in the years to come, particularly in green transition where both nations share a vision and aspiration, he emphasized.
For their part, British Ambassador to Vietnam Iain Frew and Consul General in HCMC Emily Hamblin wished the entire Vietnamese people peace, success, happiness and good luck.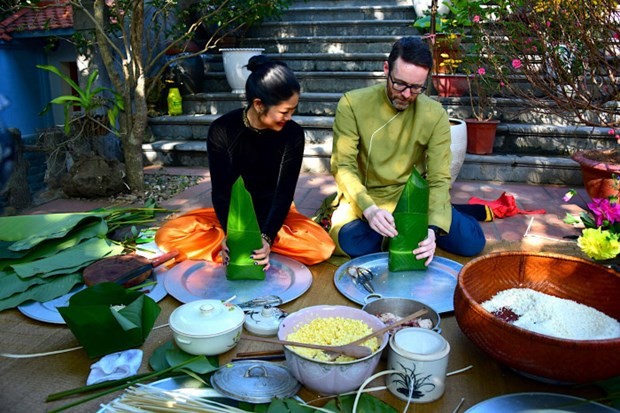 British Ambassador to Vietnam Iain Frew is making Chung cake. (Photo courtesy of the British Embassy in Vietnam)
Frew noted his belief that the relations between Vietnam and the UK will grow stronger with more links between the people, businesses and governments in 2023 that marks the 50th anniversary of diplomatic ties.