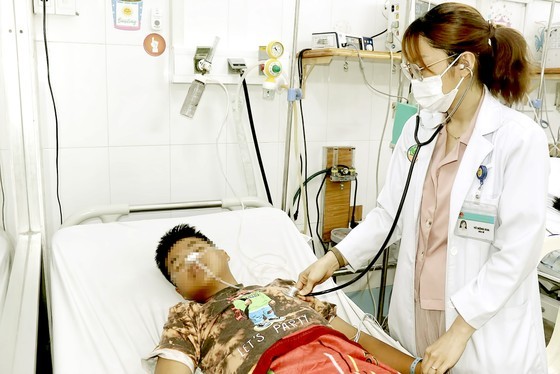 A doctor is monitoring the health condition of a child who got botulinum poisoning after eating a steamed pork roll at HCMC Children's Hospital 2. (Photo: SGGP)
Cho Ray Hospital has ever stockpiled medicine that costs thousands of dollars. The two bottles of BAT drugs which were sent from Quang Nam Province to the hospital for the treatment of three children who got botulinum poisoning after eating steamed pork roll without origin on May 16 were the last vials in the country, said Director of Cho Ray Hospital in HCMC, Dr. Nguyen Tri Truc.
"We sent an urgent document proposing for approval of the Ministry of Health to allow the hospital to buy more BAT medicine", added Dr. Thuc.
The BAT drug works best when taken within 48 - 72 hours and helps patients avoid the risk of paralysis and using mechanical ventilation. In case of not having BAT medicine, only supportive treatment can stabilize the patient's condition, Head of the Department of Tropical Diseases of Cho Ray Hospital, Dr. Le Quoc Hung said.
Mechanical ventilation doesn't directly treat illnesses. It can stabilize patients while other treatments and medications help their bodies recover. However, there can still be some risks, including respiratory tract infections, malnutrition, and paralysis, Dr. Hung added.