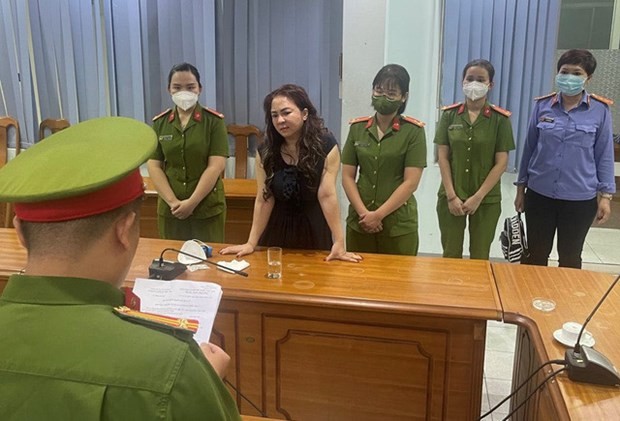 Nguyen Phuong Hang listens to a police officer reading the investigation and detention decisions in March 2022. (Source: baochinhphu.vn)

Police of Ho Chi Minh City have finished an investigation into Nguyen Phuong Hang, General Director of the Dai Nam Company and three accomplices.
The police have proposed the municipal People's Procuracy prosecute the four for the charge under Article 331 of the 2015 Penal Code.
According to investigation results, Hang, born in 1971 and residing in District 1 of HCM City, took advantage of her influence to spread unverified information about other people's private lives via social networks.
In about March 2021, via her social network accounts, Hang organised many livestreams during which she talked about some people's private lives and used words that were "humiliating and insulting" to their honor and dignity.
She was put into temporary detention on March 24, 2022.
On November 30, 2022, police launched a probe into Nguyen Thi Mai Nhi (born in 1983, assistant to Nguyen Phuong Hang), Le Thi Thu Ha (born in 1992, employee of the Dai Nam Company, and Huynh Cong Tan (born in 1994, head of the communications division of the Dai Nam Company), who were accused of helping Hang hold the livestreams. They were also banned from leaving their living places.