– Chinese Premier Wen Jiabao has warned of further action if Japan fails to release a trawler captain whose arrest this month set off the worst diplomatic row between the two Asian powers in years.
In the highest reaction yet from Beijing, Wen demanded the immediate release of the captain who was arrested by Tokyo following a collision between his fishing boat and two Japanese patrol vessels near disputed islands.
Japan in turn called Wednesday for high-level talks to resolve the feud but rejected China's claims to the disputed islands in the East China Sea, with Foreign Minister Seiji Maehara saying "there is no territorial issue".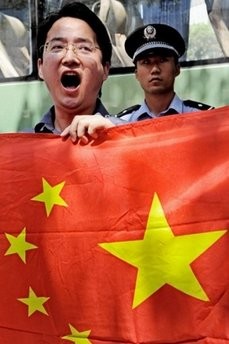 A Chinese demonstrator shouts slogans near the Japanese consulate during a protest in Shanghai on September 18, 2010.
The dispute erupted September 7 when the Chinese fishing trawler and Japanese coastguard vessels collided near the islands, which are claimed by Beijing, Tokyo and Taipei and lie near possible oil and gas fields.
Japan arrested the captain Zhan Qixiong the following day, sparking fury in Beijing.
"I strongly urge the Japanese side to release the skipper immediately and unconditionally," Wen was quoted as saying in New York by the official Xinhua news agency.
"If Japan clings to its mistake, China will take further actions, and the Japanese side shall bear all the consequences that arise," he added, urging Tokyo to "correct its mistakes to bring relations back on track."
Both Wen and Maehara were speaking on Tuesday in New York, where world leaders are gathering for UN meetings, although China has so far ruled out top-level talks there.
However, Japan said Wednesday it was ready for dialogue.
"It would be good to hold high-level talks, including a comprehensive and strategic dialogue, as quickly as possible," Chief Cabinet Secretary Sengoku told a news conference in Tokyo.
China had on Tuesday dashed any hope of fence-mending talks between Wen and Japanese Prime Minister Naoto Kan in New York, when foreign ministry spokeswoman Jiang Yu said the atmosphere was "not suitable for such a meeting."
"The issue has severely hurt bilateral relations," she told reporters.
China has repeatedly demanded that Zhan be released, summoning Japan's ambassador six times, calling off several official visits and planned negotiations and cancelling cultural events.
It further announced on Sunday that it had suspended high-level exchanges after Japan decided to extend Zhan's detention until September 29, when he must be either indicted or released.
The dispute has also caused consternation among the Chinese public, which is still ambivalent towards Japan after its forces occupied swathes of northern China before and during World War II.
Sengoku, the Japanese government's top spokesman, on Tuesday emphasised the importance of keeping nationalist sentiment at bay.
"What is more important than anything is that government officials in charge should be careful not to arouse narrow-minded, extreme nationalism in Japan, China and other countries," he said.
At the weekend, small groups of anti-Japan demonstrators took to the streets in three Chinese cities, but the protests were brief and non-violent.
The disputed islands in the East China Sea, known as Senkaku by Japan and Diaoyu by China, lie in rich fishing grounds and near possible oil and gas fields.
US Deputy Secretary of State James Steinberg has said the flare-up is "unfortunate" in light of efforts by China and Japan to repair relations in recent years.
"Good relations between China and Japan are in our interest. It's in the interest of everybody else in the region," he said.