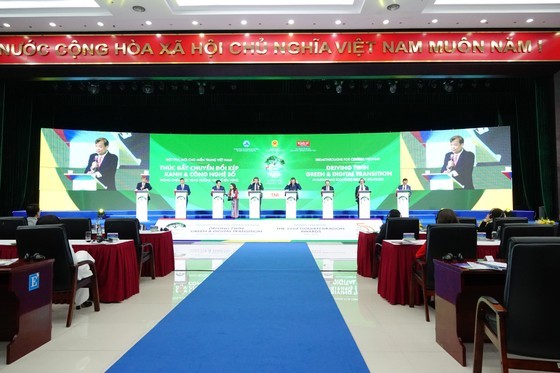 At the forum
According to Mr. Ha Kim Ngoc, Deputy Minister of Foreign Affairs, the Central and Central Highlands regions have always been a key area, with plenty of room for development because the regions have their advantages in geography and climate ideal for the development of green energy. The regions are attractive investment destinations for foreign investors.
The Central and Central Highlands have long beaches and tropical climates with a relatively large amount of solar heat, which are ideal for localities in the region to develop the green energy industry, making a vital contribution practical and effective in the economic development orientation of the region and of Vietnam in the future.
Acknowledging that the region's development is still not commensurate with the potential, Deputy Head of the Party Central Committee's Economic Commission Nguyen Hong Son explained that in terms of mechanism, there is currently no regional administrative agency; subsequently, 63 provinces and cities are considered as 63 separate economies without connectivity.
Many local leaders only want to link with big economic centers, but not with small and difficult provinces. Consequently, common problems such as the environment and efficient use of resources are not thoroughly solved.
According to Operations Manager for the World Bank in Vietnam Stefanie Stallmeister, the Central region is facing two top challenges in green growth.
Specifically, Ms. Stefanie Stallmeister said that the Central region is facing relatively large and increasing climate change. The second challenge lies in the decarbonization aspect. Ms. Stefanie Stallmeister advised the Central region to consider how low-emission agriculture is in order for agricultural exports to remain competitive in the globe.
For coastal areas alone, a 10-year delay in action could cost $4.3 billion in economic growth to natural shocks. Nature-based systems are often underestimated for their role in promoting coastal resilience. Over the past 30 years, Vietnam has lost more than half of its mangrove area, mainly due to deforestation and land use for shrimp ponds, said Stefanie Stallmeister.
Chairman of Da Nang City People's Committee Le Trung Chinh disclosed that the locality has been identifying digital transformation as the driving force to solve the bottlenecks for the creation of a breakthrough in the development of Da Nang City.
From 2020 to 2021, Da Nang led the DTI digital transformation index and won the Vietnam Digital Transformation Award in 2020, 2021, and 2022 in the category of 'Excellent state agencies have digital conversion'. The Central city also won the Vietnam Smart City Award in 2022. In 2022, the digital economy contributes 17 percent to the city's GRDP growth.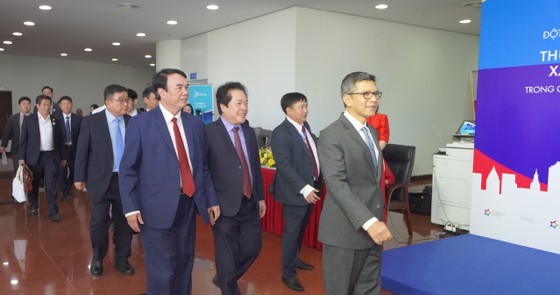 Participants of the forum
Mr. Pham S, Vice Chairman of Lam Dong Provincial People's Committee, said that the province has issued an action plan for green transformation with priority areas including agriculture, forestry, tourism, renewable energy and water resources with 80 specific solutions.
For tourism, Lam Dong focuses on resort tourism, ecotourism, conferences, seminars and spiritual tourism in addition to new products such as cultural tourism, science, education and successful agricultural tourism. Lam Dong builds tourism on the basis of the high-tech application of agriculture.
Currently, the locality has three agricultural tourism destinations of international standards, with an area of only 5 hectares a year welcoming 3 million visitors, achieving US$5 million, 10 times higher than international standards in revenue.
Regarding digital transformation, Lam Dong mostly applies remote technology solutions that can also adjust the climate, temperature, and irrigation on their farms. Lam Dong has 26 hi-tech application farms, accounting for 50 percent of the country.
Regarding digital transformation applications in tourism, 2022 is a record year of 38 percent growth compared to the plan. In 2021, Da Lat will become the top smart city.
According to Mr. Phan Quy Phuong, Vice Chairman of the People's Committee of Thua Thien-Hue province, rapid and sustainable development towards green growth and digital transformation is the province's development strategy.
Integrating green growth indicators into socio-economic development indicators, Thua Thien - Hue Province also focuses on restructuring economic sectors, in which priority is given to the development of some industries; plus, industrial development goes hand in hand with good control of environmental standards and the protection of natural landscapes.
Priority is given to agricultural development by applying high technology, information technology and software as well as taking advantage of resources from international organizations such as cooperation with ADB. The Resolution 54-NQ/TW 2019 is a mechanism to help localities concretize achieving the set targets.