Unavoidable challenges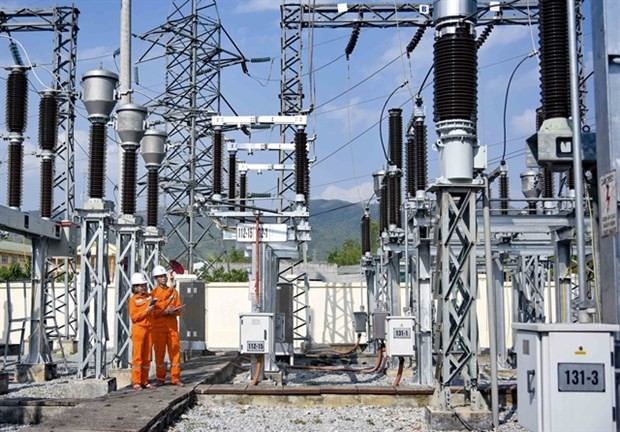 Workers of EVN's Dien Bien Phu City Electricity Company inspect power lines. (Photo: VNA)
Lu Nguyen Xuan Vu, General Director of Xuan Nguyen Group, said that his group operates in the field of agricultural product processing with many stages from raw material processing to drying that must use electricity.
On average, his group's factory in Ho Chi Minh City pays an electricity bill of about VND150 million (over US$6,180) each month. Two recent electricity price hikes will add 7.5 percent increase to his business's electricity costs.
If considered under favorable production and business conditions, this cost was not a big problem, but with the current actual situation, his firm would face more difficulties, Vu said.
Since the beginning of this year, both domestic manufacturers and exporters have been under pressure from the market decline, and the purchasing power of local people has been limited due to the difficult economic situation.
Purchasing power for non-essential goods has decreased clearly despite the application of many policies to stimulate consumption. Meanwhile, input costs including electricity prices continue to increase, but businesses cannot increase product prices.
With current economic conditions, if product prices increased, consumers would continue to take non-essential products out of their shopping list. Over time, they would no longer have the habit of using that product in their daily lives, leading to a narrowing of the market size.
"If we cannot sell our products, it would not only affect our factory's processing activities but also cause many difficulties to farmers in raw material areas," Vu told Vietnam News Agency correspondents.
Van Nguyen Vu, Director of Vit Viet Industry Production and Trading JSC, said his enterprise – a mechanical manufacturer – needs to pay an average electricity cost of about VND200 million per month. The twice electricity price adjustment would increase the monthly electricity bill that his business had to pay.
At the same time, higher electricity prices would lead to an increase in many other expenses from raw materials and warehousing to transportation. That might lower the firm's profit amid a small number of orders, Vu said.
Meanwhile, Le Nam Khanh, General Director of Vietnam Cement Corporation (VICEM), said input costs for cement production continued to increase as electricity prices rose by 3 percent – the first time in 2023 but at the time, coal prices remained high.
Khanh, however, said that the second electricity price hike would have an impact on the business performance of cement producers.
Adapting to the new situation
As it was inevitable that electricity costs would increase from this month, we had to maximise other production expenses to keep product prices unchanged, Vu from the Xuan Nguyen Group said.
"In the case of maximum savings but production cost still increase, we have to compensate for losses to maintain stable selling prices. Previously, we used to operate without making profits to retain customers and market size," he said.
In the immediate future, Vu said Xuan Nguyen would try to keep traditional customers to ensure the operation of the production-processing chain that his firm had built for more than 20 years and to maintain jobs and income for workers and farmers in raw material areas.
Vu said he hoped that economic difficulties would ease and local consumers would relax their spending so that his firm could gradually adjust selling prices of products.
In addition to traditional export markets, the company would also actively seek new and niche ones while recalculating production costs to negotiate better selling prices in the future, he noted.
Vu from the Vit Viet Industry Production and Trading JSC agreed. He said that the immediate solution for his business was to accept loss compensation.
Vit Viet mainly supplied components to foreign direct investment enterprises in Vietnam which always considered and compared different manufacturers in terms of quality and price. So it would be easy for his firm to lose customers if it increased selling prices of products, especially when orders were scarce, Vu said.
According to Mai Hong Hai, Chairman of Vicem Hạ Long Cement JCS, electricity price adjustment was part of the roadmap approved by the Government, so not only cement but many other industries that used a lot of electricity would encounter difficulties.
Calling it an inevitable case, Hai said, cement producers had to curb production costs to overcome this difficult period. He added that top priority should be given to re-organising production to save electricity and cut off other expenses.
Earlier this month, EVN said the retail price of electricity increased by 4.5 percent to over VND2,000 (US$48.2 cents) per kWh starting from November 9, the second time they went up this year.
According to EVN, the price hike would increase household electricity bills by between VND3,900 and VND 55,600 per month, while businesses would have to pay an additional VND432,000 per month.
Nguyen Quoc Dung, head of the business department of EVN, said the Government would continue to financially support those in difficult circumstances through cash, their values being 30kWh worth of power use a month.
The latest increase would add about VND3.2 trillion this year to offset EVN's financial burdens, said Nguyen Dinh Phuoc, EVN's chief accountant.
The group would cut regular expenses by an additional 15 percent and minimize the use of lighting equipment in all units to help solve financial problems, Phuoc said.
High input prices were a major contributor to EVN's financial loss, according to the Department of Electricity Regulatory under the Ministry of Industry and Trade (MoIT).
Vietnam's largest power company and sole distributor had incurred over VND28.7 trillion in losses in the first eight months of 2023. Last year, EVN also reported a loss of VND26.5 trillion.
The company said its inability to stem the bleeding was because it had been operating below cost as prices for raw materials and input had increased significantly since the beginning of the year.