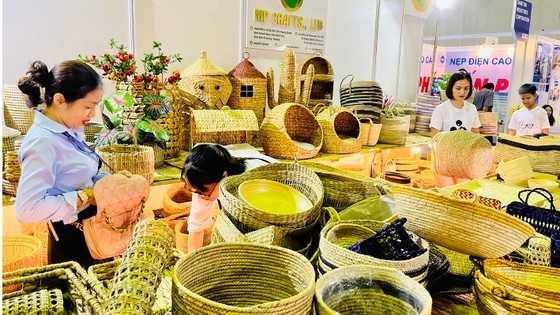 At the booth selling products made from water hyacinth
Selecting the lovely TrifonOne branded brocade sandals, Ms. Nguyen Le Minh in Nguyen Kiem Street, Ho Chi Minh City's Go Vap District revealed that she saw these lovely TrifonOne branded brocade sandals were displayed in Malaysia but she didn't know they are Vietnamese-made sandals. Now, she decided to buy three pairs of sandals at the price of VND100,000-VND200,000 for each pair because she felt they are affordable.
The booth of GioliBello brand shoes was also quite crowded with customers. 69-year-old Le Thi May and her husband hailing from the Central Highlands Province of Dak Lak were still choosing pair of shoes. She said these cheap shoes were very comfortable; thus, she decided to buy five pairs with VND300,000-VND400,000 a pair.
Nearby, a stall selling protective gear exported to Europe, the US, Japan, and Hong Kong (China) of Viking Vietnam was crowded with many customers.
Many visitors were finding out products made from water hyacinth and assistants of the booth of MP Crafts Company Limited in the Northern Province of Ninh Binh were busy answering customers' questions. Resident Ninh Van Lam in District 7 said that he went to the fair with his family came to buy goods on Saturday afternoon and he went back to the fair to buy some items again. Decorative items, bookcases, and pens were all cheap at the price of only VND10,000- VND 30,000.
Businesses take care of domestic customers
Some enterprises manufacturing commodities for exports moaned about a fall of export orders (about 30 percent-60 percent) compared to before the Covid-19 epidemic. Therefore, they have taken heed of the domestic market by launching promotion programs.
Viking Vietnam said that businesses produce millions of products every year to supply the international markets, but export orders have lately dropped 30-60 percent. Pham Hoang Kha, Marketing Manager of Trieu Phong Shoes Company (English name is TrifonOne), also said that the company is shifting to exploit the domestic market with a population of nearly 100 million people by promoting products on social networking sites such as Zalo, Facebook, YouTube, TikTok to attract cost-sensitive customers.
Similarly, Deputy Director of Viet Thanh Nhan Company Thanh Bac Ly said that his family's shoes are sold in the domestic market and exported to Europe and Japan. Recently, a Japanese partner specializing in general goods asked the company to make quality products at competitive prices. For example, a pair of shoe was sold about US$20 before, but customers now want to buy the same quality pair of shoe at $15-$20, Mr. Thanh Bac Ly said.
According to economic experts, exporting enterprises are looking for ways to serve Vietnamese customers who have more opportunities to buy high-quality domestic goods. However, this is not an easy step because of the fierce competition amongst domestic enterprises of the same type or with other imported products. Therefore, in addition to the efforts and dynamism of enterprises, the government necessarily have preferential policies on land, legal procedures, loans with preferential interest rates to support enterprises to produce quality goods at reasonable prices for domestic customers.