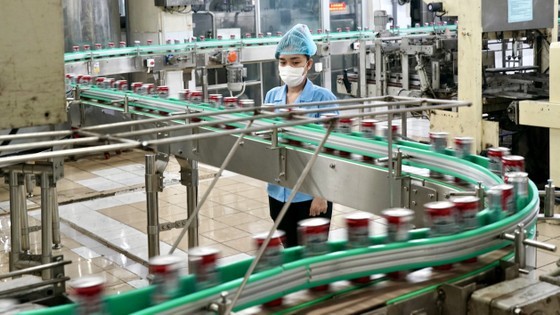 Workers monitor the production line at Tan Quang Minh Manufacturing and Trading Company – BIDRICO in Vinh Loc Industrial Park in Binh Chanh District (Photo: SGGP)
On behalf of the organizing committee, Chairman of the Ho Chi Minh City Business Association Nguyen Ngoc Hoa said that the 2023 Ho Chi Minh City Green Business Award is the first award that will be maintained annually by the municipal People's Committee.
This year, the award was officially launched in May to honor and reward businesses to comply with regulations on waste treatment generated during the production process. Moreover, the award aims to encourage businesses to carry out a lot of research for the production of environmentally friendly products in addition to strengthening corporate responsibilities in protecting the environment for sustainable growth.
The organizing committee has so far received more than 120 business applications to participate in the award and has selected more than 90 businesses to nominate for the title of Green Enterprise. Associate Professor Phung Chi Sy, Director of the Center for Environmental Technology, a member of the appraisal council, said that the council had carefully analyzed the criteria to select 90/120 award nominees for the first time. Winning enterprises have gone through two rounds of evaluation by the appraisal council and selection council.
In particular, as per the award's criteria, an enterprise must treat all waste generated during production and business activities to meet environmental standards as well as complete tax and social insurance obligations.
Additionally, they ought to have modern production, and waste treatment technology levels and apply digital transformation in production and management to make environmentally friendly products and energy-saving solutions. Last but not least, these firms must use environmentally friendly materials and invest in environmental protection at units and communities and environmental protection projects.
According to Director of the Ho Chi Minh City Institute for Circular Economy Development (ICED) Associate Professor Nguyen Hong Quan - a member of the award appraisal council, greening has become the new rule in the domestic and international markets. Businesses are required to transform green if they want to survive, develop and integrate into the global market for the goal of greenhouse gas emission reduction, carbon neutrality and sustainable development.
Currently, significant import markets have implemented high tax rates on products with large carbon contents. Being an export-oriented economy, Vietnamese businesses have no choice but to do green transformation.
In fact, Vietnam has currently signed 16/19 free trade agreements which have opened up a large export market, creating opportunities to improve competitiveness and develop market share for domestic enterprises. The Ministry of Industry and Trade's statistics have shown that Vietnamese-made goods are displayed in 200 countries and territories, including 50 potential and key export markets.
However, along with the advantages that free trade agreements bring about, domestic businesses face increasingly strict non-tariff barriers especially the environmental engineering barrier set up by importing countries.
That's why the Government issued Decision No. 1393/QD-TTg to approve the National Strategy on Green Growth for the period 2011-2030 and vision to 2050. The Government has affirmed that growth green is an important content of sustainable development, ensuring effective and sustainable economic development and making an important contribution to implementing the National Strategy on Climate Change.
Ho Chi Minh City also approved the implementation plan 'Green growth strategy towards sustainable development in Ho Chi Minh City until 2030', including 17 topics on sustainable development orientation and 18 topics on practical implementation of the national strategy on green growth. Ho Chi Minh City will focus on solutions to improve the quality of people's living environment and enhance effective management of resources to ensure sustainable production and consumption models.
On the other hand, Ho Chi Minh City also focuses on building and improving the effectiveness and efficiency of state management associated with green growth goals towards sustainable development as well as promoting economic restructuring associated with innovating green growth models and integrating green growth into socio-economic development plans in addition to the mobilization of financial resources and promotion of green growth, integration and international cooperation.
The green transformation will be an opportunity for businesses to overcome challenges and catch up with the development momentum of the 4.0 industrial revolution, which is growing rapidly globally, Chairman of the Association of Vietnam Retailerscum General Director of Ho Chi Minh City Union of Trading Cooperatives Nguyen Anh Duc affirmed.
Deputy Minister of Industry and Trade Do Thang Hai said that the green economy transition is suitable because the green transition is a global megatrend.
The United States, Europe, Korea, and Japan - Vietnam's key export markets – announced that they will thoroughly apply green barriers to promote green growth for their economies. Vietnam's export turnover of goods in the first 8 months of 2023 is estimated to reach US$ 227.7 billion, down 10 percent compared to the same period in 2022.
However, August's export turnover alone is estimated at $32.37 billion, up 7.7 percent compared to the previous month, marking the fourth consecutive month of growth in Vietnam's export turnover. This shows that domestic enterprises have also transformed, meeting many green barriers set by export markets after a short time of losing orders due to a lack of greening production.
Vietnam's green economy will reach US$300 billion by 2050
A recent announcement by the European Commission said that the current global market size for green products and services is estimated at over $5,000 billion and has a much higher growth rate than the traditional market.
It is forecast that by 2024, the green economy will create 24 million jobs. Along with this trend, according to the Ministry of Planning and Investment, Vietnam's green economy is growing rapidly from $6.7 billion in 2020 to $300 billion in 2050.