Australia Wednesday warned more athletes were likely to skip New Delhi's Commonwealth Games over safety fears as high-profile pull-outs and a bridge collapse fuelled concerns over the showpiece event.
Sports Minister Mark Arbib said Games officials expected more competitors to follow women's world discus champion Dani Samuels, who withdrew late Tuesday over health and security worries after a tourist shooting three days earlier.
The tearful Samuels, calling it the "hardest decision of my life", was swiftly followed by England's world triple jump champion Phillips Idowu, who said his safety was more important than a medal.
English Olympic 400m champion Christine Ohuruogu and 1500m runner Lisa Dobriskey withdrew citing injuries, joining Jamaican superstars Usain Bolt and Asafa Powell on the sidelines of the October 3-14 tournament.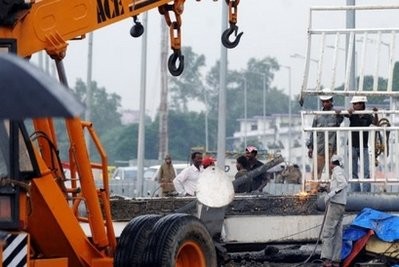 Indian labourers work on a collapsed footbridge which had linked a new road to the Jawaharlal Stadium, the main venue for the forthcoming Commonwealth Games in New Delhi on September 21, 2010.
Arbib said Australia's Games chief Perry Crosswhite was expecting further pull-outs, in a blow to organisers' hopes that athletic prowess could overcome controversies including corruption and a "filthy" athletes village.
"He didn't have any information about any other athletes but he thought there could be a number more who made that decision," Arbib told Sky News, adding Australia would restrict athletes' visits to public places.
Australia this week warned of a "high risk of terrorism" during the Games after unknown gunmen on a motorbike sprayed a tourist bus with sub-machinegun fire, wounding two Taiwanese holidaymakers.
On Tuesday, the Commonwealth Games Federation blasted the official athletes' accommodation as "uninhabitable" with rubble in doorways and malfunctioning toilets, along with urgent electrical problems.
"The reality is that if the village is not ready and athletes can't come, the implications are that it's not going to happen," New Zealand chef de mission Dave Currie warned.
Thousands of workers have been labouring around the clock to finish sports facilities and the athletes' village, as well as to clear up piles of building rubble that still litter large parts of the capital.
Also on Tuesday, a footbridge being built at the main Jawaharlal Nehru Stadium, which will host the opening ceremony and athletics, collapsed injuring 27 labourers, four of them seriously.
The approximately 100-metre (yard) bridge, previously suspended by cables from a large steel arch, fell down as workers were paving it, a witness told AFP near the crumpled sections of the structure.
Building work for the games, expected to draw 7,000 athletes and officials from countries and territories mostly from the former British empire, has been severely delayed and doubts had already been raised about its quality.
India's chief anti-corruption body found a host of problems with construction work in a July investigation, including dubious contracts and the use of poor quality materials.
Building delays have also allowed pools of rainwater to form at Games sites, causing an outbreak of the mosquito-born dengue fever which has killed four people in Delhi this year and stoked worry among athletes, including Samuels.
"I'm sure that there wouldn't be a parent of an athlete in Australia that's not concerned about their son or daughter going to the Games," said her coach Denis Knowles, according to Australian public broadcaster ABC.
Jim Wilson, a correspondent for Australia's Sky News, announced that he had also scrapped his trip to the Games over safety fears, while England's Idowu, 31, said he could not risk competing because he has two young children.
"Sorry people, but I have children to think about," Idowu tweeted.
"My safety is more important to them than a medal."
New Zealand's team will decide later this week whether to pull out en masse, as officials assess security following Sunday's shooting at a famous mosque.
Indian organisers have continuously rebuffed concerns over the event despite a growing sense that the myriad problems have at least compromised the Games and the emerging country's image.
Official spokesman Lalit Bhanot insisted the athletes village was "probably one of the best ever", despite the strong criticism by the governing body.
"Everyone has different standards about cleanliness," he said.
"The Westerners have different standards, we have different standards."